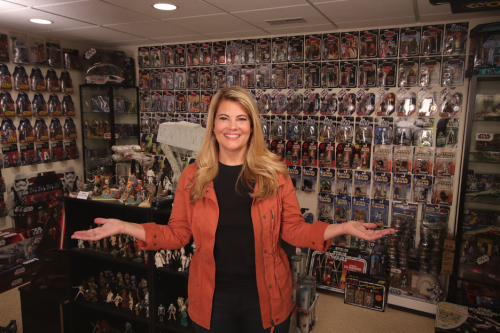 MeTV's original series "Collector's Call" season 2 returns with all-new episodes tonight at 9:30pm ET. Host Lisa Whelchel (Facts of Life) is back for the 26 episode season where she travels across the country to meet passionate collectors of pop culture memorabilia and share an inside look of their fascinating and rare collections.
In an interview with Reality Wanted, Whelchel shares what she's looking forward to in upcoming episodes, the special American collectors she meets and the most surprising item she has seen along the way.   
Reality Wanted: Season 2 of Collector's Call is returning May 17. What are you most looking forward to in the rest of the season?

Lisa Whelchel: We have some very exciting episodes coming up!  This Sunday, May 17 is Star Wars and it's probably the largest collection we've ever done.  We also have a Beatles collector and a Movie Cars collector who has over 20 replica cars from famous films and TV shows, along with the screen used MonkeeMobile from "The Monkees."  We have a Lucille Ball collector who has some amazing advertising from the 1950's featuring Lucy and Desi, which our expert had never seen others of, so they likely are one of a kind.  And we have a superhero collector who has the hand-carved Superman replica used in filming the flying scenes for Christopher Reeve in the 1978 "Superman" film.

RW: When the series returns, we meet Eric Pfeifer who has a Star Wars collection. There are A LOT of Star Wars collectors in the world. What is so special or different about Eric's collection?

LW: Eric had one of the largest collections we've ever featured on the show.  When I say it filled his house, I mean it filled his entire house:  3 bedrooms and the bathroom upstairs; the living room, den and dining room on the first floor; and the entire rec room of the basement and two other spare rooms down there.  It is incredible!   And so thoughtfully organized.  He has an Autograph Room featuring 500 autographs from actors, directors, animators and crew who have all worked on various Star Wars franchises, and Eric has gotten 90% of the autographs himself at various conventions, etc,  He has a Relic Room featuring screen used items and original artwork.  He has an Action Figure Room featuring all kinds of action figures which are covering every inch of available wall space.  Eric also has a Convention Room featuring all kinds of items he got at the many conventions he's attended, including a costume from a voice actor in Clone Wars.  Erik even has one room entirely dedicated to the character Rey containing only merchandise featuring her.

RW: Is there one appraisal or collection that surprised you the most?

LW: There was a Captain America shield used in "Captain America: The First Avenger" that was signed by some cast members and valued at $40,000.  It was one of six used in the film.  So I was surprised that something like that, which was not one of a kind but literally one of six, was valued so high.  Shows you how popular Marvel really is.

RW: What do you find most special about meeting these Americans with remarkable collections?

LW: I really do love meeting the collectors and I think my favorite thing is hearing the stories of how they found some of their favorite items.  These collectors are passionate and they do love the items in their collection, but what I have found from collector to collector is that what they love even more is the hunt.  Finding that elusive item, that one of a kind mint condition, that "no one knew it was out there" piece is what all collectors love.  And some of them have waited literally decades for a particular piece.  It's impressive!  Also the relationships that collectors form with other collectors or auctioneers or appraisers is also pretty amazing and many of them are lifelong.  It's great to see collections bring people together.

RW: Can you tell us about any other people and collections coming up this season viewers can look forward to?

LW: On Sunday, May 24 we have a very interesting episode featuring actor Danny Roebuck.  He's a big Universal Monster and Horror fan and has some amazing items in his collection like a Bella Lugosi life cast, a mold of Peter Boyle used in "Young Frankenstein", and a screen-used costume from "Conquest of The Planet Of The Apes."  But one of his most personal items is not horror at all.  He has a screen worn suit of Andy Griffith's from "Matlock" of which Danny co-starred in.  So it was a lot of fun to hear his stories.  This is a unique episode for us because we shot it remotely during the shelter-in-place order.  Would love to have been there in person, but I have to say with the technology we have and multiple remote cameras, his collection was just as amazing to see on screen for me.
Tune in tonight to the return of "Collector's Call" season 2 with all new episodes airing Sundays at 9:30pm ET/PT on MeTV.
Additionally, MeTV Network announced "Collector's Call" will present a special edition episode "Collector's Call at Home" on Sunday, May 24 at 9:30pm ET. "In this special edition episode, shot remotely, Lisa takes Collector's Call into the virtual world with veteran Hollywood character actor Daniel Roebuck. Roebuck has appeared in over 200 films and TV shows during his illustrious career of over 30 years, in roles ranging from Jay Leno in The Late Shift to Andy Griffith's sidekick "Cliff" in the TV series Matlock," says the press release. 
Photo credit: Weigel Productions