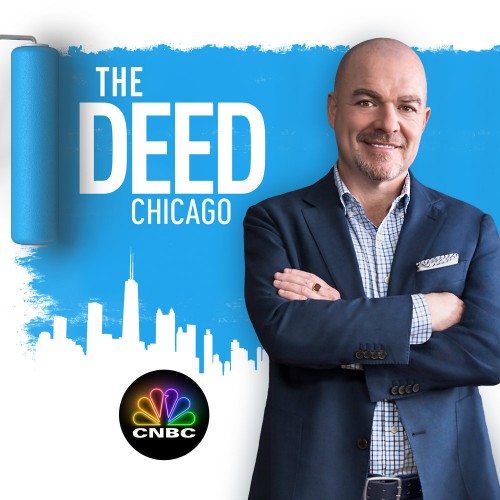 by Elizabeth Collins
Host and investor of CNBC's "The Deed: Chicago" Sean Conlon talked to us about the current second season and how he got into unscripted TV. An Irish immigrant who came to the states in 1990, Conlon embodies the achievement of the American dream from his humble beginnings working as a janitor to becoming a real estate mogul.
His inspiration didn't come from a business mentor, but from his late father "because he was an incredible dreamer, and he told me that it was okay to dream and that you could achieve amazing things. What I like to say about my father is he went from failure to failure without any apparent lack of optimism."
He adds, "And then my mother taught me the grit. She worked two jobs, raised five kids and supported all my father's failed businesses by her working two jobs, and she pushed me to be educated."
While Conlon seems to have a personality made for TV, he "absolutely never" imagined his real estate career would steer him into unscripted TV. "I never had any interest in being on television. It's pure serendipity." However, Conlon says he's embracing it and "it's allowed me to use a different part of my brain."
In 2009, Conlon's longtime friend and filmmaker Robert Teitel was working with CNBC to make a real estate reality tv show and asked him to join the meeting as an advisor. By the end of the meeting, the CNBC executive told Conlon he was perfect to be on the show, but declined the opportunity. "I can't play a real estate mogul on television in 2009 because I don't feel like one and I'm trying not to go broke," he said. "Little did I know, you can be President in America if you played a real estate mogul on television."
They remained in communication for the concept and "Around 2013 or 14, I was back on my feet and I said 'Okay! I can play the role!'" Conlon said. Thus began "The Deed: Chicago" where Conlon helps struggling home flippers in Chicago by offering his sage advice and a loan for a share of the profits from the property.
CNBC handles casting home flippers for the show, however Conlon says he will "very early on meet them because I'm going to work with them," he explains, "The deal has to work, but more importantly they have to be people that I can work with and they can work with me, basically."
What he looks for is "A willingness to listen and learn. They have to understand that it's my money I'm lending them, and any advice I'm giving them is to help us both," Conlon says of potential developers. "They have to be people who are willing to get out there and want to learn, we're not looking to embarrass anybody, and you have to have a real passion for real estate."
The series provides an opportunity for Conlon to share a couple pieces of advice: No. 1 "You should look at your first or second home flip as a down payment on your education," and No. 2 "Don't ever, ever give up!"
Similarities connect Conlon with each of home flippers on "The Deed: Chicago" explaining, "I do see a little bit of myself in the mistakes they make. While I come off in the show as incredibly knowledgeable, it's because I made every stupid mistake you could possibly ever make" adding, "I do see in a lot of the people my naivety, and in some of them I see a level of confidence I didn't have."
In tonight's episode, Conlon helps home flipper Marcello with a familiar narrative who says he moved back to Chicago with $500 in his pocket. The teachable moments are what make each project and episode special, "Firstly, Marcello seemed not to be listening to me, and I was giving him advice," Conlon says later after speaking with Cecilia, "I realized the advice I'd given them, they acted on very quickly, I'm like 'This is great! I can really work with these people,' and you'll see that sort of Ah-ha moment in the show."
When asked how it feels to now be a mentor and inspiration in real estate business, Conlon humbly replied, "I am?!" and shared he recently got engaged and hopes to pay it forward "so maybe at some point I will get to have that relationship with a kid that I had with my father."
Sean Conlon is back tonight in an all-new episode of "The Deed: Chicago" Season 2, airing at 10pm ET on CNBC.
Photo by: CNBC