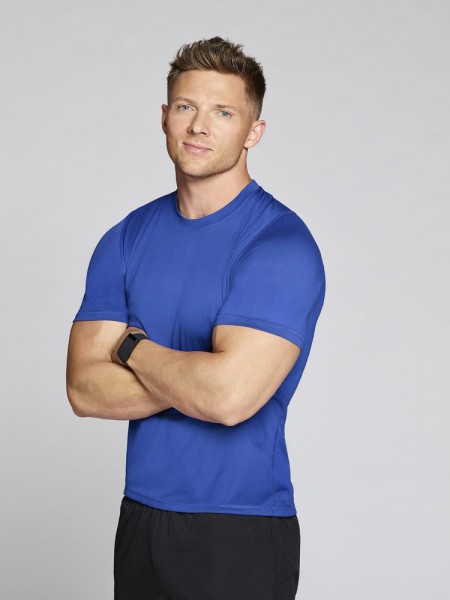 "The Biggest Loser" enters week five in a new episode tonight at 9pm ET on USA Network. We're sharing an exclusive interview with trainer Steve Cook who is in his first season of the weight loss competition series with fellow trainer Erica Lugo and host Bob Harper.
"Cook has major wins and credentials under his belt in men's fitness modeling and body building competitions, but it's truly his affable and aspirational personality that keeps fans engaged all over the world," USA Network says. "With over 2.5 million Instagram followers, 1.2 million YouTube subscribers, Cook's fitness, nutrition and lifestyle content has been viewed over half a billion times. He has appeared on multiple magazine covers including Muscle & Fitness, Men's Fitness and Iron Man."
Cook shares how he became a trainer on "The Biggest Loser," how the experience on the show has already made an impact on his life, and advice for viewers at home struggling with weight loss.
RW: How did you get casted as a trainer for the Biggest Loser and why did you want to take on this task? 
Steve Cook: I'm a personal trainer and fitness social media influencer that has spent my whole life learning the ups and downs of the wellness industry. My first client was my dad, actually. After I helped him lose about 80 lbs I was hooked and knew I had found my purpose. 
RW: So far, has there been anything really unexpected or what has surprised you the most being a Biggest Loser Trainer? 
Steve Cook: I never expected the bond we would all form. Regardless of team, we all gained an amazing support system and relationships that will last a lifetime. 
RW: You were hard on yourself after the first weigh-in but followed up with two successful weeks. What's your goal and strategy each week to keep your team on top and stay successful?
Steve Cook: I would say at the beginning I had become closest with Rob so I was pretty devastated to lose him that first elimination. I knew he had been kicking some serious butt and we really understood each other as former athletes so it was definitely rough. Focusing on bouncing back and not dwelling on the negative was key to those victories afterwards. 
RW: How do you keep your team encouraged to make progress if they are discouraged by the numbers they see on the scale? 
The number on the scale is not a measure of your worth. Learning that is so important. There are so many victories off the scale that aren't featured as heavily but are just as essential. Lowering blood pressure, reducing dependency on medication, reversing their type 2 diabetes and improving mental health are all indicators of the work that we are doing on that campus. Our goal this season is to really give a 360 degree approach to getting healthy - not just how much weight can we get off of these people. 
RW: What has been your favorite moment so far this season? 
Steve Cook: I honestly don't have one specific favorite moment. The experience in general has really grounded me in a permanent way. It has been one of the coolest things I've ever witnessed and given me a much bigger purpose than I ever thought before.
RW: What's your best advice to viewers at home who are inspired by the program and also hope to lose weight? 
Steve Cook: Take one step a day. They don't have to be huge changes to make a difference. And there are so many places to start. Take a walk outside. Try to shop only on the outer perimeter of the grocery store where you'll find fresh foods. Practice self care. Try out our at-home workouts we have on The Biggest Loser Instagram. And most importantly, remember that perfection is the enemy of progress. You need to love yourself and your journey, missteps and all, before you ever see lasting change in yourself. 
RW: Do you have a message you hope to deliver that will impact the contestants and people watching? 
Steve Cook: Again, the most important takeaway from the reboot is that self love should always be the top priority. If you're trying to get back in shape then please stop focusing so much on the scale. Find additional, achievable benchmarks to measure your success and embrace those. Reframe the way you think about your journey to really see things in a positive light. This will make all the difference in the world.
If you'd like to see and hear more from Steve Cook, you can join the other 2.5 million people on Instagram following @stevecook.
The Red and Blue teams are once again even in eliminations entering week five tonight. USA Network's reboot of "The Biggest Loser" air new episodes every Tuesday at 9pm ET.
Photo by: Richie Knapp/USA Network