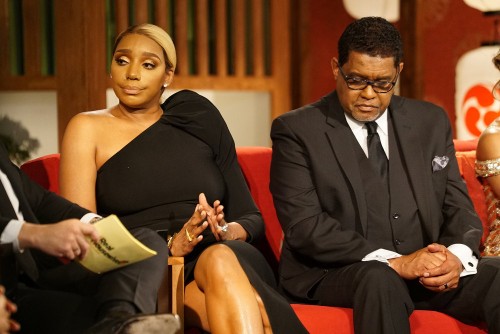 According to Extra, "The Real Housewives of Atlanta" star Nene Leakes says she's in a better place after her husband Gregg's cancer battle was documented this past season. NeNe gave an update on her husband Gregg's health with "Extra's" Tanika Ray at Universal Studios Hollywood.
"Gregg is doing great. A few days ago he took the PET scan so it's going to be able to tell whether he needs to do more chemo, if there's cancer, if it's spread... so he'll get those results next week." She smiled, saying, "But, he looks great. I know he's going to be good."
NeNe explained how Gregg's health struggle is effecting their whole family, "Cancer is a very big thing. When my husband was diagnosed with cancer, we all were diagnosed with cancer in my house... our house was just... we were so down about it. It was a heavy thing on us."
Next up for NeNe Leakes is hosting the "Ladies' Night Out Tour" which is more fun than on-camera altercations with castmates. ""I am the host and we have a lot of funny women on this tour... with Loni Love, Sherri Shepherd," Leakes added.
Photo by: Annette Brown/Bravo