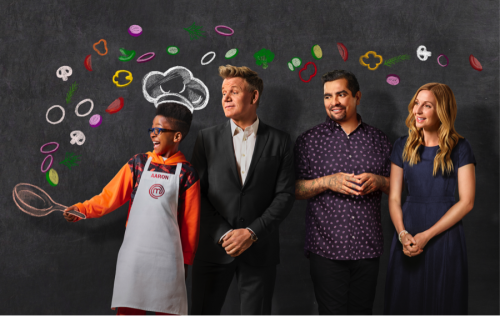 FOX announced season 7 of its culinary competition, "MasterChef Junior" will premiere February 26th. "The series gives talented kids between the ages of 8 and 13 the chance to showcase their culinary abilities and passion for food through a series of delicious challenges," says the FOX press release. The contestants compete against each other for the grand prize of $100,000 and the MasterChef Junior trophy.
On the judges' panel is award-winning celebrity chef, Gordon Ramsey, joined by pastry chef Christina Tosi and restaurateur Aarón Sánchez.
"Season Seven will showcase a mystery box challenge focusing on the most important meal of the day - breakfast. Additionally, the young chef-testants will attend and prepare a meal for 51 circus performers, create a restaurant-quality fish dish, compete to see which team can first roll out a perfect sheet of pasta to 24 feet and power through the fan-favorite restaurant takeover challenge," from the press release.
Season 7 of "MasterChef Junior" premieres Tuesday, February 26th at 8pm ET on FOX.
Photo credit: FOX