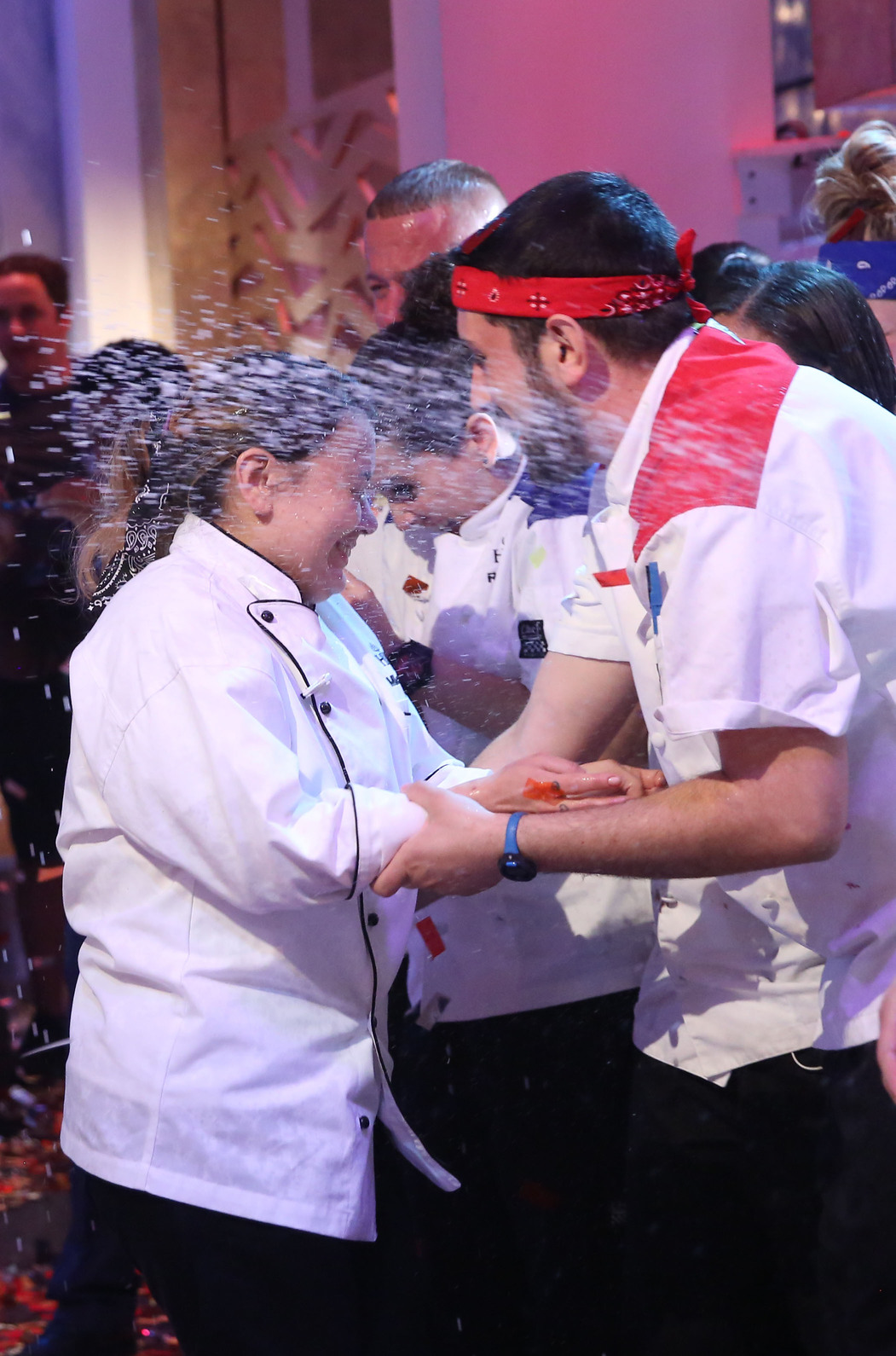 by Ashley Thompson
The Season 17 winner of "Hell's Kitchen" is...
Michelle Tribble! Her winning menu will make you dribble... see it here:
Appetizers:
Hamachi Crudo - Cucumber coulis, jalapeno oil, sliced red grapes and black sesame aioli
Uni risotto - Shellfish stock, shrimp, ginger, scallion, sugar snap peas and uni butter
Roasted Cauliflower Salad - Tri Color Cauliflower, Parsnip Puree, Lemon Vinaigrette, Yellow Curry Aioli
Butternut Squash Spaghetti - Pancetta, Braised Kale, Butternut Squash Cream, Persimmon, Orange
Entrees:
Pan Seared Striped Bass - squid ink pasta, seaweed butter, pickled shimiji mushrooms and fried ginger garnish
Chicken Thighs - Braised bok choy, Yuzu, Wasabi mayo, Cipollini onions, potato puree, chicken ginger demi 
New York strip - Purple potato-beet puree, chili poached tomatoes, yuzu butter, Tokyo turnip and Szechuan peppercorn demi
Crispy Skin Salmon - Patty Pan Squash, Baby Zucchini, Tomato-Red Bell Pepper Puree, basil Gremolata, Carrot Puree
Desserts:
Chocolate Panna Cotta - Cherry Granita, Almond Crumble, Espresso Mousse
Peaches & Cream Alaska - Sponge Cake, Vanilla Bean Ice Cream, Peach Compote, Swiss Meringue
In the final challenge it was Michelle against Benjamin Knack (Season 7) in Las Vegas. Gordon Ramsay loved Michelle Tribble on Season 14, although she came in 3rd. But there was no way she wouldn't take the All-Star season's winning first-ever title home.... something you could put all of your chips on! Or should we say poached tomatoes?
Photo credit: FOX