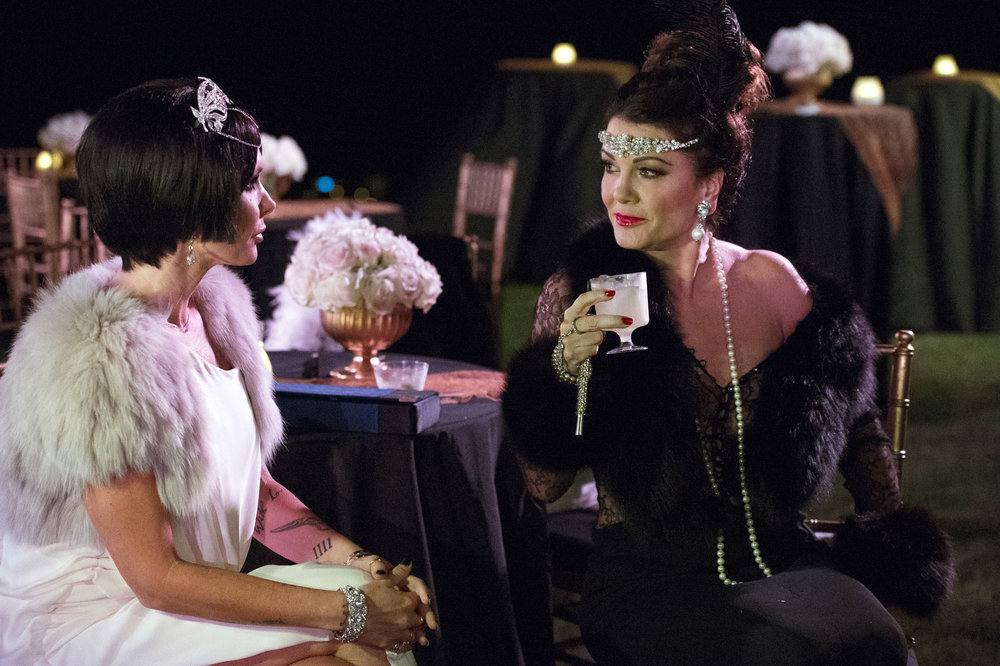 In order to follow the pack, Lisa R. has decided to throw a BBQ. Not like Kyle's ball gown/catered back yard dinner, or Erika's speedo wearing back-up dancer pool party "BBQ", but a real bbq where Harry Hamlin grills and everyone is wearing denim and white. That doesn't mean there won't be drama like at every. other. event. ever. Eden wants to discuss Kyle's sister, Kim, once again. Lisa R., formerly Eden's best advocate, does not think this is the best time for such an intimate conversation. Especially amidst her friendly bbq. Eden thinks Lisa R. needs to sit down and listen instead of pretending to cook. Actually, Eden, she's just running away from the awkwardness.
Instead of her usual White Party, Kyle is having a Great Gatsby party at one of her husband's Malibu properties for sale. This gives Eden the perfect chance to keep up her 'I'm offended and I need to keep talking about it every single second of every single get-together'. Seriously with the emotional victimization. When the sisters refuse to let her stay the victim and stand up for themselves and their relationship, Eden is left feeling even more victimized, "They don't even care that I care.". UGH! NO ONE CARES! In fact, Lisa V. would like you to know that she is not putting up with that ish and will not be listening (until next episode where she listens quite closely).
You know a relationship that has serious goal envy? Lisa R. and Eileen. They always have each other's backs, they have a lot of fun, they support each other without having to tear each other down. Let's watch them a little more. And maybe a few episodes based on Erika Jayne alone.
Photo by: Nicole Weingart/Bravo