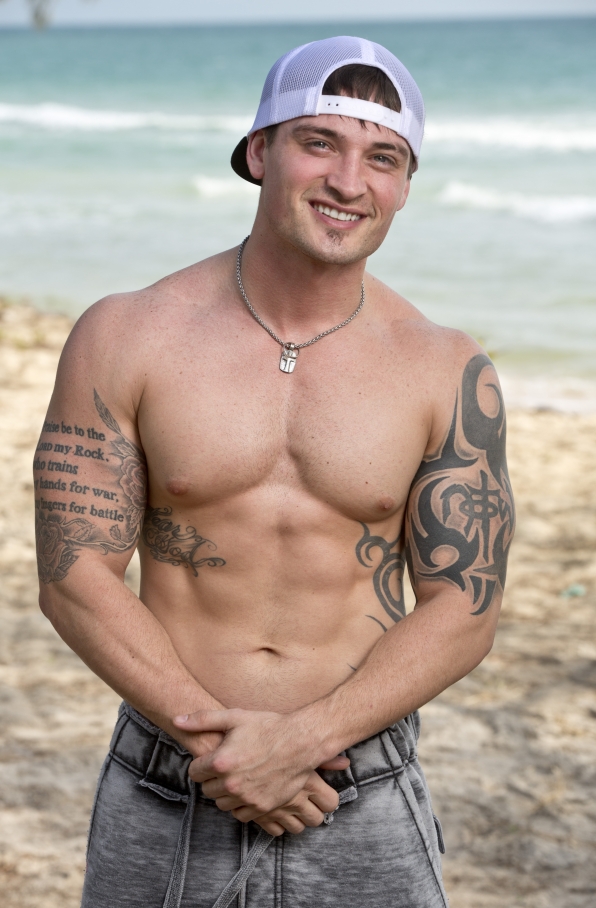 by Gina Scarpa
Last night's episode of Survivor was truly one of the scariest in the show's 32 season history. After an exhausting reward challenge in the brutal heat, three players went down for the count and it took every medical and crew member to step in and help. Despite efforts to bring down his body temperature and keep him alert, Caleb Reynolds was pulled from the game which devastated both his Beauty tribe members and countless fans. The Big Brother and Survivor player chatted with RealityWanted about that fateful day in the game and his mission to play again.
Having watched you on Big Brother, I feel like we are seeing a different or maybe a more well-rounded version of you on Survivor. Do you agree with that?
I've gotten that a lot on social media. People are saying, "I like you so much more on Survivor." I was reading through some tweets and people said, "I hated you on Big Brother, but I loved you on Survivor." Honestly, I don't know. I feel like the same personality is flowing through. I feel like I'm more in my element, this is my game. Maybe it's the editing and that Big Brother is so much about 24 hour access. Honestly, how I looked on Big Brother for the first few weeks wasn't me. There's a lot that wasn't shown and I was kind of upset. I wasn't some crazy freak! Maybe I'm a little more humble now. I'm guessing it's a little bit of everything. I'm not out there as a character, I'm out there to survive. I didn't want to be Beast Mode Cowboy, I'm Caleb Reynolds.
Yeah, Survivor definitely does seem like more your element. What was your reaction when you got the call to compete?
I was pretty excited although I had just fallen in love with my now fiance, Ashley. The thought was running through my mind of not being around her for 39 days. How is this going to work? I asked her and she said, "I would never tell you not to go. I don't want to see you leave but I want you to do what you enjoy doing." When I got the call, I was very excited because I was thinking I could do it! It's something I've always wanted to do but I wasn't sure if my body was ready for it. I was prepping for a bodybuilding show so my body fat was low, I was eating 7 times a day, and I had very short notice for Survivor.
I'm sure a lot of fans were saying this but I've seen every season of Survivor since the beginning and I have never seen anything like what happened last night. Can you describe what was going on out there so that people at home can understand what happened?
I was told that the heat was 118 degrees out there and what the viewers see at home... they see people digging in sand, they see them going under logs, and rolling balls. It looks like a little rough day at Chuck E Cheese. That's what it looks like to the average viewer. We're playing Skee Ball in the heat. What they don't realize is 118 degrees beating down on you 9 days in with no food or water will wear on you. You're digging in sand 2-3 feet deep for over an hour. That part gets exhausting! We're like little ants being burned by a magnifying glass, our heart rates are sky high, but it's either continue playing or quit.
The decision to pull you from the game really affected your tribe but the other players in the game as well. When did it hit you, what had just happened?
It hit me about 2 ½ hours later from the helicopter ride in the ambulance. When I opened my eyes, I realized yikes, I had done something wrong. I knew I was out of the game, I had IVs in both arms, and I knew I was done. I don't know what I did but I was done. Later, I found out I had pushed my body over its limits but it made me feel good to know we still won the challenge because that's really all I cared about.
I think just about everyone would like to see you get another chance to play the game because you really seemed to have what it takes to make it to the end and win. Even after everything that happened, would you go back?
Yes ma'am, I would. People ask, "How could you do it again after something so tragic?" I've always been told my whole life: once you fall down, it doesn't matter how you fall, it matters how fast you get back up. I got back up a long time ago and I have been going full force since then. I'm not going to let an incident like that stop me. That's been my heart since I was a kid, that's been my heart in the military, you just have to get up and continue. Last night, I fell but I can guarantee you I got back up. I want everyone to hear it. I almost lost my life. The doctors said if I didn't have the muscle that I have, I would've been dead. That's how severe it was but I can't use that to stop me from going and playing again and winning. I agree, I think I do have what it takes. I will pack my bags and give 110% next time.
Survivor airs Wednesdays at 8/7c on CBS.
(Image courtesy of CBS)