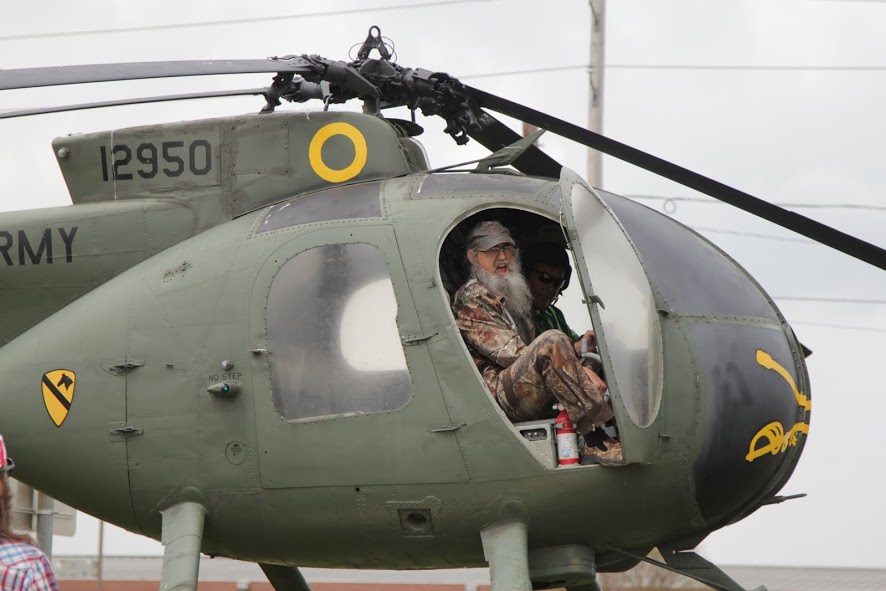 By Ashley Thompson
Last year a few of the Quack Pack went to Walter Reed Medical Center to meet wounded Vets. Luke's Wings is a non-profit that provides free travel for wounded warriors and their families and they're bringing the Vets, Lance Corporal Mark and Lance Corporal Christian, to Louisiana.

Si is taking on the planning because he feels that surprising experienced soldiers is damn near impossible.. and he is the soldier that can accomplish the mission. Sadly for him, Willie already has a plan in motion. While they are taking pics in front of the Duck Commander building, the crew asks to join them, much to their total surprise. No code word "carne asada" needed, poor Si. They thought they were going fishing in Arkansas as their vacation, but Willie said disclosed that was all a ruse. As part of their experience they sit in the duck-call room and shoot the shit. "Is this what you guys do all day?" Yep, sure is. Jase has bee working on a new call and give the very first two samples and the crew gives them a duck call salute to say "thank you" for their service in the Marines.

Before they headed out to the lake, Mark had to be admitted to the hospital due to complications with his injuries. But his main concern was that Christian was able to go fishing. How so very sweet. In true fashion, the loser of the fishing competition has to wear a tu-tu to the color run they are running for Mark and Christian. Cute minnow, Si. Lucky for you quantity is the ruler of this game. Did you know: they don't let you out of active duty for duck season? After a long conversation with Phil, Christian admits that getting injured on duty renewed his faith. Much to this group's happiness. Winner: Team Jase 14, team Jep 11. Girls, get the bedazzler ready.

Marcus Luttrell, a retired Navy Seal, is a big hero for Christian. Willie brings him to the celebratory day and color run. Sadly Mark is still in the hospital and wasn't able to be a part of the fun day, so Marcus visited him in the hospital. It hasn't gone past them that Uncle Si served for them, then they served for others. Feeling the heaviness in the room is apparent even while sitting on your couch.

"We need to learn to get along, okay, then there might night be need for war. Ok. But, you know, if we do send them off to war we should back them going and coming back." - Silas Robertson.
Photo by Gurney Productions