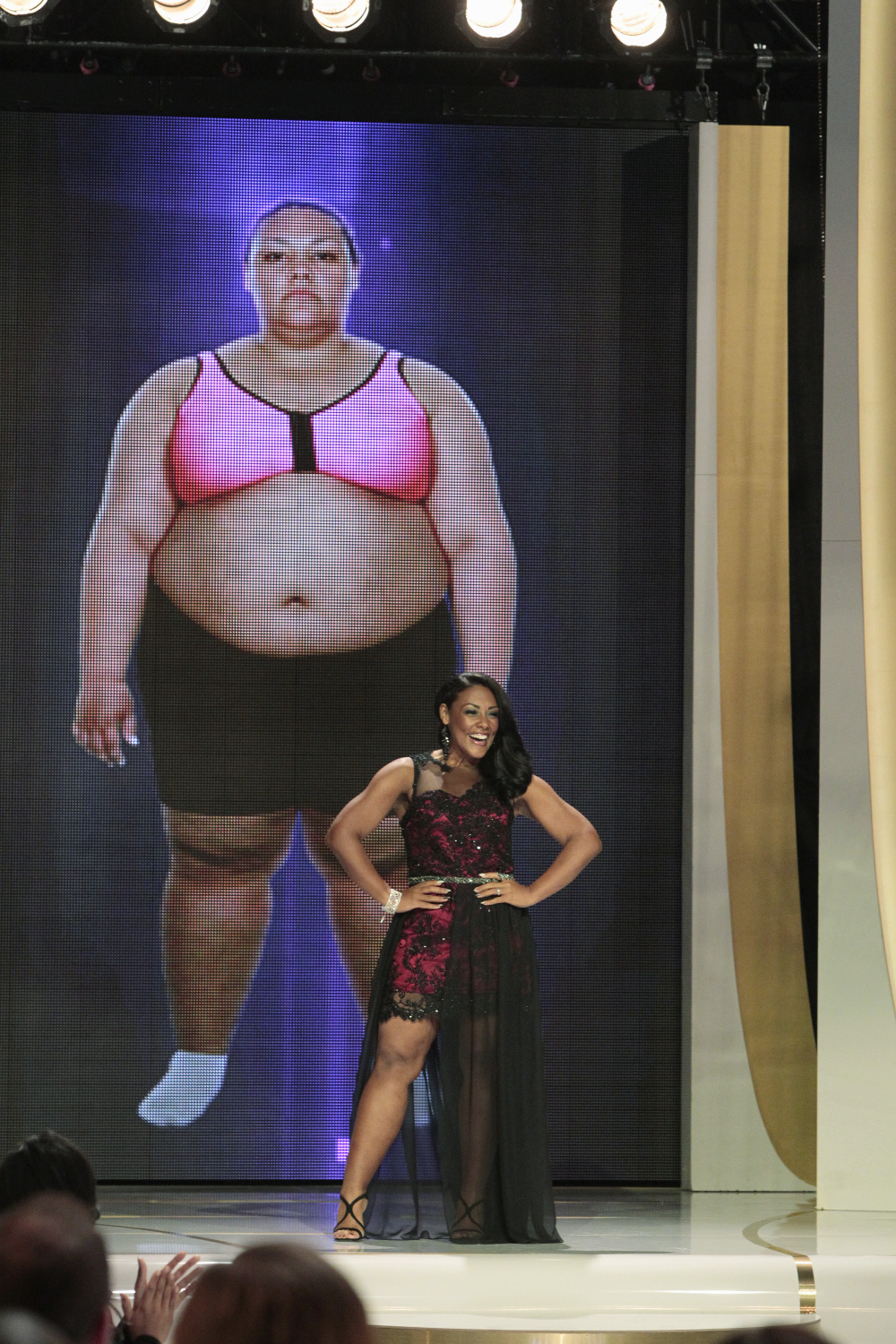 By Ashley Thompson
Kim is a 29 year old aspiring fashion designer from Honolulu and is also 279 pounds, approximately 150 pounds overweight. Although she has made designing her career, she is sad that the sample sizes she provides aren't something she can wear herself. After Heidi surprises Kim with the transformation journey, Tim she gets her very first challenge. Tim Gunn asks Kim to make her finale dress in one hour. This means she has to predict her size and shape one year from now. Her first weight loss goal is to lose 70 pounds the first 3 months, and finish her dress in Denver.

Part of the transformation that Kim is most excited for is conquering her fear of heights. Heidi doesn't wait until the 6 month mark to start this part, instead she harnesses her into a sling and sends Kim over a gorge at the Arkansas River. Once she feels the freedom, she decides to change even more in her life and wants to move back to NYC, rather than go home to Hawaii. At her 90 day weigh-in she is down to 212, missing her goal by 3 pounds.

Her next goal is to lose 40 more pounds by her 6 month weigh-in. Chris is worried that NYC will be a distraction from her journey, especially seeing the dress she designed for the finale is a size 4. Immediately she lands a job working for designer Christina Ottaviano. Girl is on a roll. But Chris is right, NYC and a diet don't go hand in hand. So Rocco starts sending her meals since he is also in NYC. Lucky girl! At her 6 month weigh-in Kim is down to 166 pounds, beating her goal by 6 pounds. To celebrate Heidi takes Kim to meet top designer Michael Costello and play dress-up with his dresses (size 8). And also Beyonce's dress from her world tour (SIZE 6!).

By the 9 month mark Heidi wants her as close as possible to the 50% loss mark. But Kim is struggling. She's no longer walking the 6 miles to work and the gym every day, and she's admitting that she is self-sabotaging with food even calling herself a food addict. Ultimately she is only down to 161, only 5 pounds lost. Since she is down to 33% body fat she is a good candidate for skin surgery, but the risk is if she loses more weight she would be a great candidate. She puts her new goal to lose 15-20 more pounds before she agrees to surgery.

At her final weigh-in Kim is looking gorgeous in her self-designed dress and is down to that size 4 goal. She is down to 143, 3 pounds past her goal... which means she is headed to skin removal surgery and that size 4 dress will be loose on her.
Photo credit: ABC