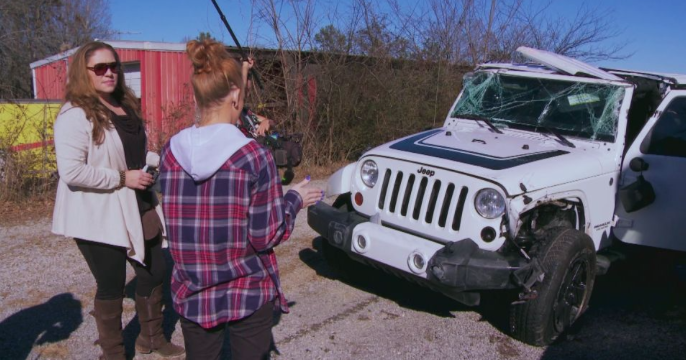 by Jessica Blackwell
After Maci's showdown with Farrah, as if that wasn't bad enough, she was in a bad car accident on her way home. Her jeep was totaled, and from the looks of it, it's a wonder that she, Bentley, and her unborn baby girl got out of it alive. 
Ironically, Ryan also was in a bad wreck, but unlike Maci's accident, it was his fault, and he admitted it. He said he was reaching down for his phone, and wasn't paying attention. AND he didn't have his seat belt on! Stupid!! 
When Maci and Taylor met Ryan and his girlfriend for lunch, they started talking about their respective accidents and Maci was appalled when Ryan shared how his accident happened. Then she started asking questions about Bentley riding in his car, and she was less than pleased with what Ryan had to say. 
When she asked if Bentley sat in his booster seat everytime he was in the car with him, he said no, not all the time. Maci lamented that he HAS TO ride in the seat, every time! It's the law! It doesn't seem like Ryan cares about those though. 
It made Maci realize that she doesn't trust Ryan, but Jen and Larry to keep Bentley safe and she might need to make some changes. Tell us, what do you think of Ryan's irresponsible behavior? 
Teen Mom airs Mondays at 10/9c on MTV. 
(image courtesy of MTV)