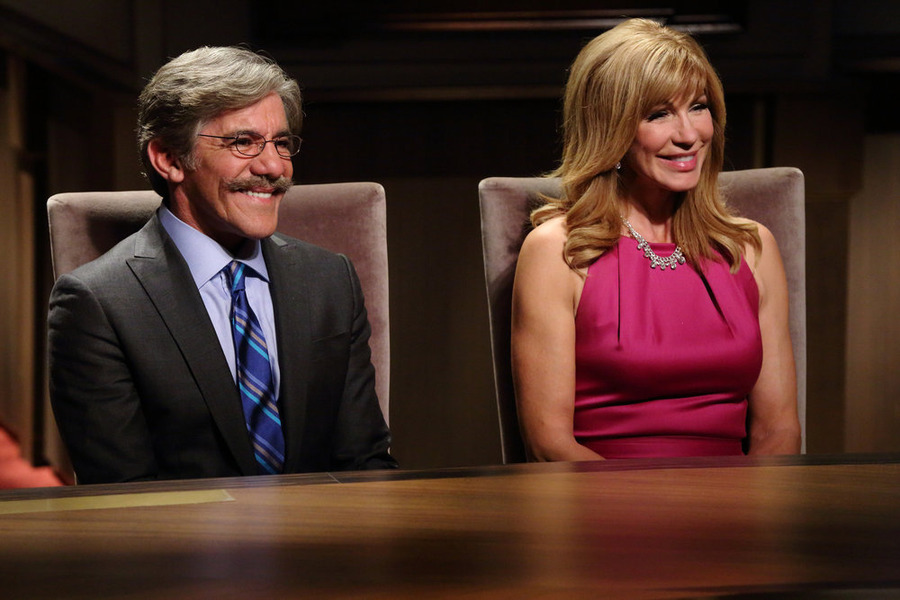 By Ashley Thompson
Geraldo, Vivica and Leeza are the last contestants standing. They are requested back in the boardroom and Trump announces that Team Vortex is the only team remaining. He also announces that another firing will happen to bring them to their final two. When asked if Leeza is better than Vivica, Vivica says "yes", swallowing her pride and admitting that Leeza is a stronger competitor than herself. Although Donald respects her for the admittance, Vivica is FIRED.
For their final task Trump is sending Leeza and Geraldo to Universal Orlando Resort via his private jet. They are playing for $250,000 for their charities: Life's Work and Leeza's Care Connection. They will sell vacation packages for the resort, then fly back and present their commercials at a red carpet event in NYC. They will be judged on creativity, brand messaging money raised and overall presentation. The season's other cast members will be returning to help Geraldo and Leeza on their projects.
Team Leeza includes Brandi Glanville, Johnny Damon and Kevin Jonas. Her initial brainstorming leads her to "Magic of Memories" and asking her friend Olivia Newton John to sing her song "Magic" at the presentation. Her commercial will involve an over-involved dad finding "Universal moments" with his children. Unfortunately Brandi and Johnny aren't taking this mission as seriously as Leeza would like and decide to ride a roller coaster instead of purchasing props for the presentation. But Leeza's takes it all in stride.
Team Geraldo includes Ian Ziering, Lorenzo Lamas and Vivica A Fox. Initially Geraldo feels he is being punk'd by Trump for lending him Ian but hides his feelings of contempt. His original idea involves himself as himself. He would take children into the World of Harry Potter as a reporter/Harry Potter. "Harry's world is now your world".
Next week we will see the commercial presentations in the finale and learn who the next Celebrity Apprentice will be.
Photo credit: NBC