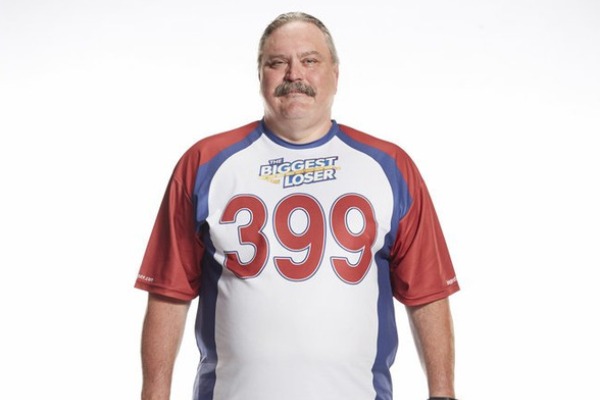 We caught up with the latest casualty of Comeback Canyon, victim's rights attorney Mike Murburg, who expressed genuine surprise at being so loved by fans of Biggest Loser and no regrets at being outweighed and eliminated by, as he called him, "the youngun" Matt. 
He spoke of almost not being able to film the scene that closed last night's episode of Biggest Loser - where he visited his son's grave, having fulfilled the promise he made to him before he lost his life serving his country. He was 120 pounds lighter, healthy at last and reborn, having finally let go of his "grief weight".
I have to say it was only five minutes into the phone call that I loved Mike even more than I had on the show. Occasionally Biggest Loser cast some "old dogs" to compete amongst the young bucks and more often than not they surprise us - not just by their stamina and ability to keep up, but they also bring a deeper element to this weight loss game show, sharing their well earned wisdom with the world, and just like my all time favorite Australian contestant  and winner (another oldie) Bob Herdsman, Mike also proved you can indeed teach an old dog new tricks.
He is a new man.
He recalled day one, doing the medical tests, having to hold on to the treadmill to coplete the cardio test, 400 pounds, having to take  100 units a day of diabetic medicine, severe sleep apnea, dangerously high blood pressure and with early onset heart disease. 
These days he is no longer on any medication, is no longer diabetic, his blood pressure is normal, has no sign of heart disease, has reduced his resting heart rate from 90-63 bpm, has lost 120 pounds and as he said, is still losing, has gone from a size 22-17 and feels like he is finally living his life although much of that these days is taken up with working out, the idea of being the at home winner, very much on his mind.
I asked him how Matt had managed to beat him that week and he was quick to make a very good point - matt had only lost 3 lbs the week before, setting him up to naturally have a great week just when he needed it, and emulating the very problem I see in Comeback Canyon being that the person coming in almost always has the "advantage" of having lost a small amount the week before versus the Comeback contestant having been the biggest loser of the week to stay there.
But he also shared that whilst he had been injured at the ranch and still managed to bring in a consistent 10 pound loss a week, but what we didn't know was just how injured he really was. From day one he had a torn meniscus in his knee but if that wasn't enough, for the last few weeks he had an infected toe and could only work out in the pool.
This is where I say "champion effort"! Followed by a quick, "How did you get such amazing numbers while being so injured?"
He explained, like all great contestants of Biggest Loser, he constantly crunched the numbers of calories in and calories out. His catch phrase is "If you don't burn it, you don't earn it" (great advice). There was never a day when he was not up at 5 am in the morning working out for at least 3 hours before filming. On his first day at the ranch Dolvett asked him to workout for 7 hours so he did 7.5. He prized himself on being the biggest loser, with both weight and body weight percentage, right up util he left and does not regret asking his fellow contestants to vote him out because injured, he knew at some point, he would bring down his team, unable to give his best in the challenges, and so, just as his son sacrificed his life for his country, it seemed fitting that Mike would sacrifice himself for the team he had come to love.
These days if you want to catch up with him, it will more than likely be at the gym. He maintains the same regime he started at the ranch and is up at 5 am, getting in 3 hours before he gets to work, he is installing bikes at work to grab short 15 minute workouts throughout the day, has a pre dinner workout, has dinner then hits the gym again. You think he'd be tired after all that but says he has never had so much energy. 
His top tips for those struggling to get started:
No matter when you start or what you do you WILL have relapses….so just remember it is two steps forward for every step back….stop counting!

In order to get those two steps you have to get your feet on the ground and get walking. So get up!

A joke. What do tiger sharks and obese athletes have in common? If they stop moving they will die.

Use the app Myfitnesspal - Dial in and know exactly what calorie count is coming in…
I couldn't resist asking him if, had he not been so injured, could he have beaten Matt and for  a brief second the competitor came out and mentioned the 3 lb weight loss from the week before being almost too hard to beat (he is right) but then, in typical fashion went on to share how he had actually taught Matt everything he knew, from day one. Matt followed him around and very quickly learnt to do what Mike did. Matt ate what Mike ate, he cooked when Mike cooked, he got up the same time, did the same things and simply followed his reluctant mentor around. Mike explained that at first he was annoyed, but then realized imitation is the highest form of flattery and in the end, gifted Matt his snorkel and goggles and even gave him lessons of what to do in the pool should he be injured at any time.  Mike is a good man. This is obvious.
I asked if he was going to win the at home portion of the competition and he avoided answering, But when i asked for his tips on who would take out the title his tips surprised me.
He predicts it could come down to Sonya, Toma or his fellow team mate who he says he semi adopted, and who I would never have picked as a potential winner, Rob.
So it's obvious that at this point I could go on and on and on. It's no surprise that this conference call interview was inundated with people wanting more more more from the gorgeous Mike with the heart of a Lion.
This beautiful man, former wrestler, father who lost his son protecting the freedom of this country and of all things a poet. 
I will leave you with his poem, in full, that he wrote at the request of Bob, asking him to share his experience of letting go and becoming new again.
Mike explains the one thing that makes this series so important for killing of the hatred and discrimination overweight people go through when he shares his belief that weight is simply a distraction from the real issues you are carrying around and in order to lose the weight you need to literally lighten up. You have to admit what your failings and shortcomings are, quit covering you feelings up and be honest….it is then, and only then that you will be ready to be born again.
THE LESSER MAN
I fight against the lesser man within.
For he is a coward, a drunkard and a fraud.
He is lazy; he is good companion to no one.
Yet he is and lives and breathes.
He is not my flesh and blood,
but he is in me.
He says less and less these days
for I am no longer interested in what he has to say,
or how he is feeling.
He always repeats his cacaphonic chorus.
He always feels the same - lousy
No, I have finally heard the infant song of my better self.
I am here to nurture it and love it as a child's,
To grow it strong, sensible and reliable
and teach it love and humility,
to give it kindness
and to listen to its needs and cries.
In a way, it is both a birth 
and a rebirth.
A good soul can never be reborn too many times.
Yet a house can only have so many rooms.
and the birth of a new child into an old home
leaves no spare room for the imposter to occupy.
And though he may never completely leave on his own accord,
I can at least guarantee that his stay while here
shall never be a comfortable one.
Mike Murburg ~ 8/5/14