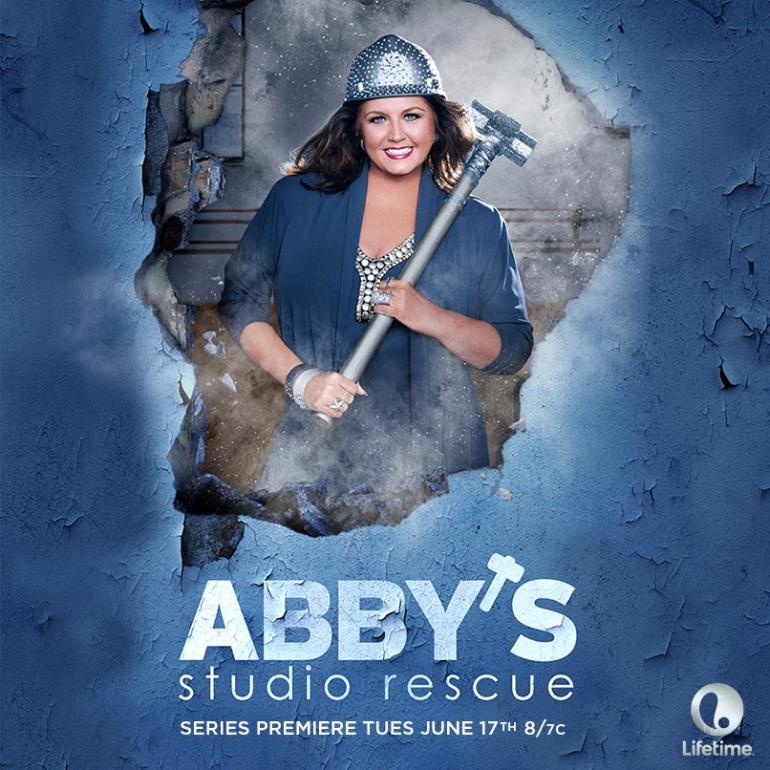 We caught up with Abby Lee Miller on the red carpet of The Reality Wanted TV Awards in April where, in her classic Abby Lee outspokenness, she shared that she wasn't thrilled with the title of her latest show Abby's Studio Rescue. But with her third spin off series in three years, she's no doubt laughing all the way to the bank….. so who cares what we call it? Abby makes great TV and her new show is no exception.
That said, it's far from original programming but instead is a tried and true makeover format exactly like Tabitha's Takeover and Ramsay's Kitchen Nightmares rejigged to suit Abby's straight talking no nonsense take no prisoners personality we have come to love (and hate). 
Her first episode takes her to dance studio "Triple Threat" in Warwick, Rhode Island, owned by Marlaina Rapoza, who once held classes at the local kindergarten, but who less than a year ago, invested her life's savings to open a studio of her own, which has steadily declined to the point where Marlaina suffers from acute depression. The studio is in such a state of disrepair it is literally falling down around them. So acute is her anxiety, that she rarely, if ever attends her own studio and when Abby makes a surprise visit, even a phone call saying there was a "student emergency" fails to get her to come in. It's only when Abby gets on the phone herself and reveals exactly what is going on, that Marlaina actually agrees to get involved.
Enter Abby and her makeover team and I have to say Kudos to Lifetime for charging out of the gate with such a sensitive issue as depression and it is here that Abby makes her first detour from the cliched "bully" she's been labelled as in her other shows and what may make this one of her biggest hits yet, reaching an audience far more wide than real life dance moms and wanna be dancers who aspire to making it on Broadway, something Abby boasts having "made happen" numerous times with her former students. Let's be real - I watch Tabitha's Takeover and I have zero interest in hair dressing or hair salons in general. My leg hair is only marginally shorter than my head hair, a testament to how often I avail myself to "spa services" of any kind. But I watch it. I love the before and after transformations. Same with Gordon Ramsay's show - I've no interest in rescuing an ailing restaurant business and I can only just boil water without burning the pot, but it doesn't matter, because we all love a rags to riches Cinderella story and while this might be just another one of them, I say, why not one more? If it ain't broke, don't fix it, and I believe this formulaic "new" show is here to stay, whether you like Abby or not.
But there's the rub. As per usual, Abby has her best B.S detector on, and we all love it when she calls out moms behaving badly and this time, her tough "love" is clearly directed at the so called grown ups, who quite frankly deserve a good talking to. Who hasn't rolled their eyes and nearly spilled their Pinot watching the errant behavior of the women who are supposed to teach their kids the way to behave. Seriously, I sat there cheering as Abby supported Marlaina through her depression, giving her the courage to face up to the women who were happily stomping on her dream as if they were Lucille Ball in a barrel of sour grapes.
Cue the inevitable studio makeover, painted walls, new mirrors and a $30,000 floor and finish it off with a cute kid dance off and there you have it, a very happy ending, where everyone comes out a winner and Abby, for the first time ever, doesn't come off as a villain, but the straight talking expert she is, finally getting the respect her lengthy career deserves. 
"Abby's Studio Rescue" airs Tuesdays at 9 p.m. EDT on Lifetime. Miller's hit series "Dance Moms" returns to the network Tuesday, July 29.