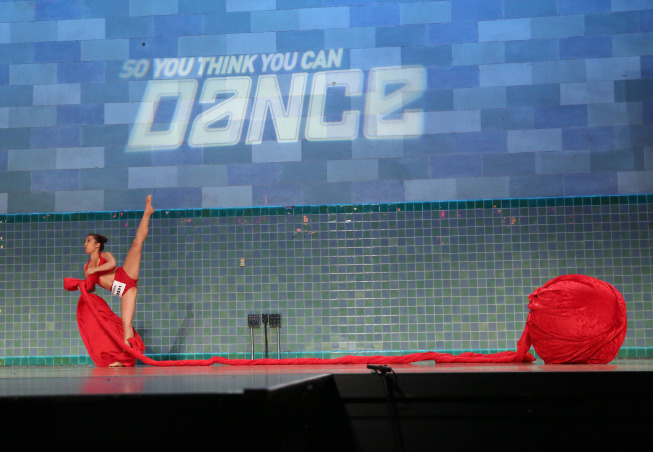 By Ashley Thompson
First we finish up LA auditions with Nigel, Mary and guest judge, Christina Applegate:
Serge Onik 25, and Alla Kocherga 24, LA: These ballroom dancers are apparently more than dance partners but consider their relationship "complicated". According to their dancing, there is definitely chemistry. Serge made it to the green mile in season 10 but has since obtained a new partner in Alla. She twerks (not during ballroom dancing). Together they have intense footwork and quick legs so obviously it's off to Vegas they go. (Wonder if her two cheeks hanging out of her dress helped the situation?)
Timothy Joseph, 24, Sacramento: I think he's considered hip hop/breaker, but we'll just call him a flipper. All he does is flips and slams on the ground but he's strong and impressive enough to warrant a trip to the choreography round. However, during his performance he may have slammed himself one too many times and is too injured to continue.
Casey Askew, 19, Seattle: He is a skinny contemporary dancer with amazingly controlled turns but he doesn't look strong enough to be a good partner dancer. Nevertheless, he's sent straight to Vegas so we'll see later if partnering is his thing.
J-4, says he is 18 1/2 but he is actually 9. He knows the age limit but claims to be auditioning for the "experience". This hip hop dancer from San Jose, CA gets a chance to dance with Fik-Shun and Cyrus in a pass it over routine that looked planned, but was apparently off the cuff. I can only hope that SYTYCD is here for another 9 years so we can see him again. Totally adorable.
Jourdan Epstein, 24, MN: point. bro in rehab. strong legs but soft movements, mix of contemporary and ballet, nervous, Christina calls her "captivating", good technique, straight to Vegas.
"Johnny Waacks" Gibson, 22, NYC: He was the season 9 joke but wants to be taken more seriously now... but he's still a joke but only on the term "waacking". He has musicality, but is really just jerking arm movements. He's a performer though so I can see why Nigel sends him to choreography.
Marlene Ostergaard, 25 and Armen Way, 28, CA: She had a bad partner in Hong Kong and lost her spirit until she met Armen. He made it to Vegas in season 10 and famously dropped his partner on her head. Together they are sensual with fantastic partnering and good hips. "You have taken the dang train and ran it off the dang tracks"~Mary... so obviously it's straight to Vegas.
CHOREOGRAPHY ROUND:Â Several more went through choreography and Johnny Waacks got it together enough for a ticket to Los Angeles callbacks along with 5 more dancers.
Now we go to Philly with guest judge and Prima Ballerina Misty Copeland from the American Ballet Theatre:
Bridget Whitman, 19, AZ: This contemporary dancer lost her father who was in an auto accident with two of her brothers when she was 12. Her brothers made it, but Daddy didn't. Her last memory of him is of watching SYTYCD together when he told her to follow her dreams. She is delicate, light, pleasant and straight to Vegas... duh!
Amir Sanders, 21, MD: Ballet (point) but doesn't look the part with the bull ring in her nose. She calls it "funky pointe" and it is oh so accurate. Misty is eyeballing this girl to watch her technique and Bridget performs. She is definitely unique. Misty tells her to work on details but she is a yes to choreography.
Landon Anderson, 18, UT: Brought along season 10 ballroom contestant Jenna to audition with. He needs a new haircut but oh man is he strong and masculine. Straight to Vegas he goes. And his partner, Jenna, is asked to come back as a first year all-star!
Back with Justin Bieber and Nick DeMoura introducing two more dance crews to battle for a spot on the SYTYCD Finale. Up tonight are Wanted Ashiqz: Bollywood meets hip hop. But what's with the crotch grabbing, guys? #SYTYCDwanted and Mix'd Elements: Hip hop freestyle with martial arts tricking. #SYTYCDmixd.
Shafeek Westbrook, 24, PA: He auditioned in season 9 but had a bad attitude and was cut, vowing never to return... but here he is. This hip hop dancer, funky pants and all, removes his shirt and shows his physicality. But he didn't bring the charisma like he has before so they send him to choreography.
CHOREOGRAPHY ROUND: Both Shafeek and Amir get a ticket to the callbacks, which makes it a total of 18 tickets handed out for Day 1 in Philadelphia.
For Day 2 of the auditions Mary and Nigel are joined by Broadway star Billy Porter.
Stanley Glover, 19, IL: This contemporary dancers' mom died when he was 4 from a heart attack in her sleep. His dad never showed to the court date for custody so his moms best friend took over guardianship, and now he is an amazingly captivating dancer. His leaps are high, toes point for days, and he is so controlled. Vegas Vegas Vegas!
James "Banks" Davis, 24, NY: A few years earlier he was showing off for two girls on Halloween and their boyfriend got angry and shot him twice. James almost lost his leg but as the pulse returned they changed their mind on amputation. This hip hop dancer pays attention to the beat and tells a story but it seems like he has more to give dance-wise. Can he partner? It's off to choreography to find out.
CHOREOGRAPHY ROUND: James did not make it through, much to my surprise, but 11 other dancers did.
Photo courtesy of FOX