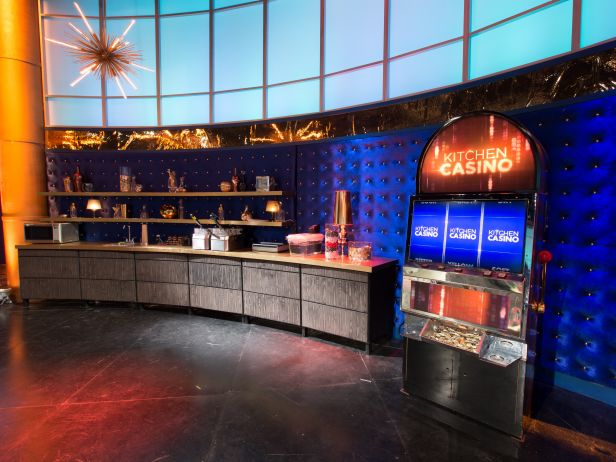 By Ashley Thompson
Round 1: Chef Slots - 30 min - Mexican picnic using marshmallow
It may seem like marshmallow is the challenge, but how do you make a mobile picnic dish? Chef Chad makes a creative dessert rice pudding with marshmallows. Chef Jon decides on a spicy flank steak taco with marshmallow mole' and pineapple salsa. Chef Ashley goes for a small sweet spiced tortilla chip and marshmallow mole'. Host Bill Rancic then pulls the slot handle once more to reveal the last mandatory ingredient to incorporate in to each dish. He pulls "spicy", "red" and "silky". Naturally the contestants go for a sauce to accommodate all three descriptions. The first chef to go bust is Chef Amy, a taught-by-grandma chef at Lucky 13 Pub in South Philly. The judges give a score of only 4 out of 10 for her roasted pork and sweet potato burrito with chipotle marshmallow aioli.

Round 2: Chef Roulette - 40 min - Assigned protein is catfish with three rotations of the roulette table.
Chad ends with catfish bruschetta with black eyed pea ragout from his original dish of catfish meatballs. Chef Jon starts with a catfish with chorizo and bean ragout with collard greens but ends with fried catfish with creamy pasta. For the first time no one sabotages another contestant and the second chef to go bust with a score of 5 out of 10 is Chef Ashley. A self taught southern food chef at the Dogwood in Brooklyn. Her dish started as a cornmeal crusted fried catfish and ceviche but after several rotations, she ended with a catfish meatball with caramel fried okra.

Round 3: Chef Poker - 30 min - 3 card ingredients are romanesco*, rice, and pork shoulder.
Chad is dealt two cards and stays, leaving him with ground beef and sour cream to make a pork schnitzel with dirty rice. Jon is dealt two cards but draws one, giving up chicken thighs and replacing it with dried shrimp and cornichons* and is unfortunately the last chef to go bust. His score of 6 out of 10 for his pork and chicken paella with roasted red pepper sauce sends Chef Jon, an ex-magazine executive turned cook from Brooklyn, home.

Round 4: High Rollers Wheel
Chef Chad, a food truck owner from Baltimore, now has a chance to walk away with $8,000 based on his final score or take a spin on the wheel. He decides to defy luck.... and spins.... JACKPOT!!! Chef Chad goes home with $24k!!!!!!

*Romanesco: an edible flower bud of the broccoli and cauliflower variety.
*Cornichons: small pickled gherkins.
Photo courtesy of Food Network