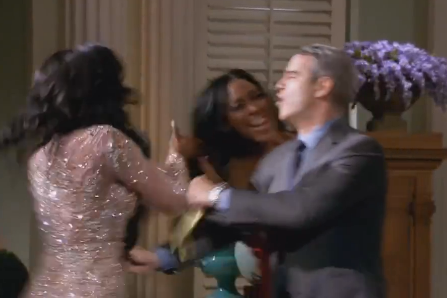 by Jessica Blackwell
Like everyone else I tuned into the reunion last night, curious about the fight that supposedly went on. The rumors were true - on the first installment of the RHOA Season 6 reunion, Porsha snapped and attacked Kenya. This is the first time that a reunion has come to physical blows, and leave Kenya Moore to provoke someone to do it. Instead of being excited about the fight, it was actually kind of sad...
Although Kenya got more likable on the last episodes of the season, sharing her struggles with infertility and losing her dog, tonight she was back to her old tricks. She showed up, ready to annoy and secure her spot on Season 7. She also brought props with her, carrying a queen's scepter and tucking away a megaphone. 
The reunion started out normal enough, with all the housewives getting some digs in here and there. Kandi's wedding was a week away, and she made it very clear that despite all the comments about her weight during the season, she's not the biggest person in the group and NeNe certainly shouldn't be having anything to say about it. 
Besides obviously wanting to secure her spot on the show, Kenya was probably being extra because her love life kept coming under attack. Multiple questions came in from viewers questioning whether or not her African Prince actually existed. Even NeNe doubted her, despite having literally run into the man on the street. When Kenya pondered why anyone would question that she would have a man, Andy gently reminded her about the Walter debacle the season before. 
Before things got physical, Porsha was doing quite well on the reunion stage. She was well spoken and eloguent, redeeming herself from a history of saying dumb things.  So she was quite clear when she told Kenya that it seemed there was no African prince for Kenya, and even accused her of trying to pay a Nigerian singer $15,000 to appear on the show. It was at that point that Kenya pulled out her megaphone. Porsha had already ripped her scepter from her hand, but that didn't stop her from screaming in Porsha's face. Big mistake. Porsha stood up, got in Kenya's face and it was all over after that. 
The confrontation itself was pretty quick, Porsha pulled Kenya's hair and wrestled her to the ground, and then was pulled off of her by security and Andy Cohen. What's interesting is that Kenya remained calm, and kept repeating "she's done" over and over, almost as if her entire goal was to provoke Porsha and get her fired. 
Poor Porsha collapsed on the ground and became hysterical once she realized what she had done - most likely gotten herself fired from her only paying gig. Porsha was screaming about how much she had gone through and how embarrassed she was and NeNe was desperately trying to cover her mouth, minimizing how much damage she did to her image. 
Listen, I know it's wrong to hit, especially on national TV but Kenya called Porsha a beard, a dumb wh*re, and accused her of cheating on Kordell. All Porsha did was do what every housewife wanted to do all season, but she's more than likely going to suffer for it. Kenya was already proclaiming that it was either her or Porsha, she called the police, and is never going to make like easy for Porsha if she does remain on the show. 
Andy sent Porsha home for the rest of taping and next week the reunion continues without Porsha. Stay tuned. 
The Real Housewives of Atlanta airs Sundays at 8/7c on Bravo. 
(Image courtesy of Bravo)