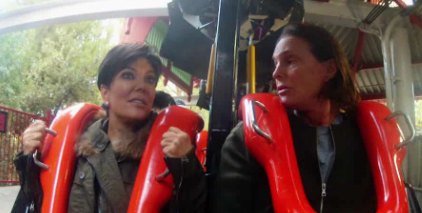 by Jessica Blackwell
Besides Bruce's rumored sex change (he's looking more and more like a woman every episode) the Jenners are going through changes! 
Because everyone clearly wants to get away from Kris Jenner, Kendall began looking for houses so she could move out AS SOON as she turned 18. The family was still getting used to Bruce officially leaving the residence, and yet another Jenner was trying to jump ship. After finding out Kendall was working with a realter, Bruce risked the wrath of Kris and stepped in to help her find a home, preferably in Malibu closer to him. 
While Kendall searched for a new home, Kourtney decided that as a family they had too much stuff. She forced all her family members to throw out their old junk and contribute to a garage sale, but surprisingly, she couldn't part with her stuff! Khloé had to force her to part with one of Penelope's cars, and Kourt realized that she shares her family's hoarding ways. 
Khloé wanted to make sure no one would forget about poor Brucie, so she tried to get an event organized for his birthday. Since Kim and Kourtney are both busy with the men and babies and Khloé has neither, she had all the time in the world to focus on the bash. Not to be outdone by their sister, Kim and Kourtney arranged for two of the men from his Olympic team to come to his dinner celebration. Fred Dixon and Fred Samara walked in, giving Bruce a blast from his past. Bruce felt touched, and most importantly, he knew his family still cared about him. 
Next week Khloé gets more candid than she ever has about her split from Lamar Odom. Stay tuned! 
Keeping Up With The Kardashians airs Sundays at 8/7c on E! 
(Image courtesy of E!)