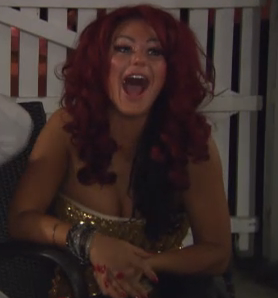 by Jessica Blackwell
The ladies decided they were both in a Joey state of mind, so they invited all the Joeys over for a bit of fun. To add extra spice to the evening, they invited Miss Fang over to give them all drag queen makeovers! 
While the ladies were having good old fashioned fun, the guys were fishing and having a heart to heart. Roger revealed to Jioni that he's getting really confused and frustrated about Jenni's hot and cold attitude towards children and marriage. She only mentions wanting to have children and walking down the aisle when she's drunk, but he just wants her to be very clear (and sober) and tell him what she wants. 
JWOWW's dreams of having her dogs become certified service dogs got squashed - for now. The pooches bombed their final exam and therefore became service school rejects. Jenni is still determined to be able to bring her dogs into nail salons and have them sit quietly and legally, but her dogs just don't want to cooperate. 
Snooki got the results of her DNA test and although she wasn't part alien as she hoped, she was definitely plenty of things. Even though she was born in Chile, her blood test turned up Russian, Jewish, Asian and a bunch of other things. Totally weird. 
After all their fun with the Joeys, Snooki and Jenni decided to continue the merriment with a semi Jersey Shore reunion. Planning a couple''s sleepover, the girls invited Sammi & Ron and Deanna and her man over for grilling and drinking. It was good to see the old crew, Sam and Ron have moved in together and even stopped fighting! 
Poor Roger got even more confused when Jenni announced that they were going to start trying for babies next month when talking to all the couples! She even whipped out a list of baby names. Having all the shore roomies over, grilling and relaxing, talking about marriage and kids was a far cry from their wild days. I guess everyone has to grow up sometime! 
Stay tuned for next week! 
Snooki and JWoww airs Tuesdays at 10/9c on MTV. 
(image courtesy of MTV)