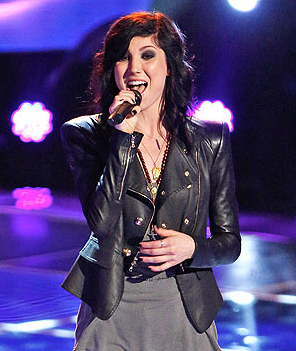 by Gina Scarpa
Briana Cuoco took the stage for the blind auditions this season on The Voice and grabbed the attention of two coaches. Her performance of "You and I" inspired both Christina Aguilera and Cee-Lo Green to turn around. Briana chose Christina, but lost in the next round, a battle against teammate Jacquie Lee. She was quickly snatched up by Blake Shelton and we chatted with Briana today about her exciting time in The Voice competition thus far.
Q. Gina, RealityWanted: What made you decide to try out for The Voice?
A. Briana: I used to have a Voice night at my house every Monday. It's pretty surreal being on it now. This season, I got an audition with the casting directors and things worked out and here I am.

Q. Gina, RealityWanted: It had to be such a relief to see chairs turn around for you during your blind audition. How did you choose between Christina and Cee-Lo?
A. Briana: I was like, "Oh my god, I cannot believe people turned!" I picked Christina because she's a woman and that's a lot different than being a man in this business. As a vocalist, the amount I could suck up from her in that amount of time, I would never get anywhere else. She's incredible and really pushed me to be a better vocalist. I'm so lucky to have worked with her.

Q. Gina, RealityWanted: How were you feeling going into the battle round against Jacquie Lee?
A. Briana: Battles was incredible! Jacquie and I got really close and she became like my little sis. I was truly happy that she won. I lucked out with the steal so it almost didn't process that I was about to go home.

Q. Gina, RealityWanted: Were you thinking you'd get stolen by another coach or did that turn out to be a surprise?
A. Briana: It was a surprise! For me personally, I don't expect that. Everyone in the competition is truly so good, I just feel lucky to say that I got to work with both Christina and Blake.
Q. Gina, RealityWanted: I read that, going into this season, you were hoping to be on Blake's team. How has he been as a coach thus far?
A. Briana: Incredible! He's exactly who you think he is. He's silly, kind, and warm. He makes you feel like you've been on his team since the beginning. I was also trying to weigh who was on each team to see which team I could possibly shine on more. Again, everyone is fantastic. But he's won three times so that's obviously a factor.
Q. Gina, RealityWanted: What's your ultimate goal, musically?
A. Briana: It sounds super broad but I would just love to make great music. I would love to collaborate with great people. It would be incredible if I could somehow act and sing. I hope the sky's the limit.
Q. Gina, RealityWanted: We've obviously seen the support your sister has given you throughout the competition but what has the support of your fans meant to you as well?
A. Briana: Oh my goodness! Everyone has been so incredible, it's really overwhelming, the love and support. I know some of that comes from my sister. It really overwhelms me every time an episode airs. People don't have to be this supportive and it's really amazing.
The Voice airs Mondays and Tuesdays on NBC.
(Image courtesy of NBC)

Follow Gina @ginascarpa