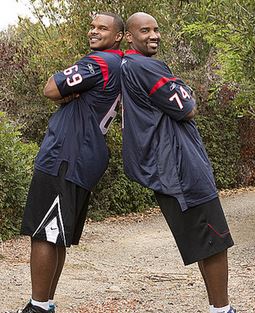 by Gina Scarpa
This week on The Amazing Race, Chester and Ephraim learned the hard way what happens when you separate from the pack. The friends and formal NFL players tried getting a flight that would land in Portugal hours earlier. Thanks to delayed connections, though, they arrived so late that every other team had already checked in. We talked to the pair about their disappointing exit from the game in our exclusive interview.
Q. Gina, RealityWanted: What made you want to run The Amazing Race?
A. Chester: Because Ephraim asked me to. He said it would be fun and cool!
A. Ephraim: I've been a fan of the race from day one and in my mind, I thought I could win it.
Q. Gina, RealityWanted: Did you talk to Tim and Marie at all about the second Express Pass?
A. Chester: I do remember that. Ephraim was sweet talking them and trying to work it out.
A. Ephraim: They said they were going to give it to us and I think they would have.
Q. Gina, RealityWanted: Were you looking to form alliances during the race or just worry about yourselves?
A. Ephraim: We wanted to form alliances with everyone. We didn't want them all to team up against us to eliminate the professional athletes.
A. Chester: We knew that, because we were professional athletes, people may feel a little threatened. We wanted to be nice to everyone so no one felt they needed to get rid of us.
Q. Gina, RealityWanted: It was definitely a risky move to separate from the other teams this week and get on a flight that had two connections. How uncertain were you feeling when you make that decision?
A. Ephraim: Pretty uncertain but we figured we could get that five hours back. Even with one flight delay, we still had a five hour cushion. What are the chances that every single flight would be delayed?
A. Chester: From mechanical issues to one flight that there was rule where the crew had to rest or something like that... if there was any mistake we made, it was we were chasing the original flight we should have been on.
Q. Gina, RealityWanted: Were you expecting to see Phil waiting for you at the airport or was that a surprise?
A. Ephraim: Absolute surprise. I've watch every episode and I've never seen that before.
A. Chester: All we were thinking is that we still had a challenge and the race was still on.
Q. Gina, RealityWanted: I feel like there's a lot we didn't get to see from you this season. Would you run the race again if you were asked?
A. Ephraim: Absolutely!
A. Chester: Yes!
Q. Gina, RealityWanted: Anything else you'd like to say about your Amazing Race experience?
A. Chester: I really enjoyed the experience. Going in, I didn't know as much as Ephraim but just seeing all the moving parts really made me have respect for everyone involved that makes this an awesome show!
A. Ephraim: I loved it. It was a dream come true. I'd like to thank everyone involved who gave us the opportunity to be a part of such a fantastic show.
The Amazing Race airs Sundays at 8/7c on CBS.
(Image courtesy of CBS)

Follow Gina @ginascarpa