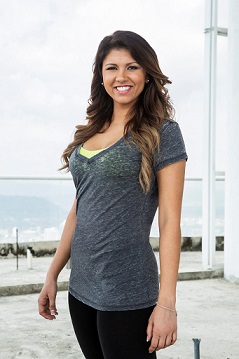 by Gina Scarpa
Athena Lazo wasn't going to win any popularity contests with her fellow players this season on TNT's The Hero but that's alright by her. The ex-Patriots cheerleader freely admits that she didn't go on the show to make friends, but to help her family. Right before filming, her brother suffered a stroke and Athena was determined to win some money to help him with his medical expenses. She did take $35K home, but was eliminated right before the finale. We chatted with her today about working The Rock on over-the-top challenges to become The Hero.
Q. Gina, RealityWanted: What made you decide to try out for The Hero?
A. Athena: Cheering was ending. You're old and they retire you. I didn't know what I wanted to do. I'm in a weird place at 25... not where I thought I'd be. This opportunity fell into my lap. I got an email about the casting, and sent in my resume and photos. It was interview after interview and before I knew it, I was in Panama hanging out with The Rock. Originally, I had done it to let every woman and young girl know what society says is acceptable. Being in the NFL industry was difficult, and you deal with body image issues and questioning yourself. Originally, I wanted to do that and then mid-audition process, my brother had a stroke and he's been my hero my whole life. I figured I'd win the show for him. He can't work so I figured that was a better reason to go on the show.
Q. Gina, RealityWanted: What was it like to sit down with your family every week and watch the episodes?
A. Athena: They're always really nervous. They don't know what's going on so, each week, I watch it unravel next to them. I filmed it a while ago and the way it felt and the way it seems when I watch it is different. They're always crying. My gramma was crying and holding her breath, saying, "Are you getting eliminated?" They're very involved in the show.
Q. Gina, RealityWanted: Some of these challenges that they have you guys doing is intense! Which was the hardest or scariest for you?
A. Athena: We didn't know what we were getting into and I kept telling myself they weren't going to let us die! Watching the Colon episode, that was my hardest challenge. Rachel and I ran for two hours through the streets of Colon. I saw a lot of things that I wouldn't normally see. A couple times we got yanked out of buildings because certain people were coming in and producers didn't feel we were safe. At any point, we could've actually been shot or killed and I didn't even realize that. In the moment, the adrenaline is rushing and watching it on tv, we definitely could've died. Of course, playing with snakes wasn't fun either. Every challenge was so different that it's hard to say.
Q. Gina, RealityWanted: After you took the money a few episodes in, your fellow players were questioning you and your motives. What was your reaction to that?
A. Athena: I kind of went into the show with the mindset that I'm not here to make friends. I'm here to do what I have to do and hang out with The Rock. When people started getting so wrapped up in the game, I didn't understand it because it's a game. They're all strangers. For them to dive down my neck because I took money for my family... my question is, "When are you going to step up and do something and be a hero to your family?" The eight other people on the show, who cares about them? That's where I was at! I walked away with very few friends. I stay in touch with Rachel and Dave. These people were screaming at me and judging my family and saying I'm not heroic. It's not real life! The Rock doesn't just pop out of trees and hand you $35K.
Q. Gina, RealityWanted: What did your family think of your decision to take the money?
A. Athena: They're really supportive and my fans were really supportive of my decision. They were more mad at Darnell for taking the money. He took money that was everyone's and Lydia was jumping out around saying, "Finally, someone good wins!" I'm gonna pay off my brother's medical bills with that. Everyone was really supportive.
Q. Gina, RealityWanted: You were eliminated right before the finale, which had to be tough. How did you handle it?
A. Athena: I was relieved once I was eliminated, which sounds weird. Living in a house with eight other people, the majority of who were ignorant most of the time, was very overwhelming. My anxiety had peaked and I was completely exhausted. To say I thought I could take the entire competition is a hard statement but I thought I had a good chance of winning. Those left, I don't think are America's favorites. I think Shaun has a good chance, I think Rachel does. I backed her the whole time. I think that people play the game and eliminated those that they thought were their biggest threats and that stinks. America isn't going to get to vote on the most heroic or even who was their favorite. I was relieved, to say the least. To stay in that house any longer was not worth the money.
Q. Gina, RealityWanted: How do you feel about the experience, now that you've had some time away from it? Do you want to do more television?
A. Athena: The experience was aweosme. I've been a lot of places, but it just added to everything I've done. A lot of my friends and boyfriend ask me what's next. How can you top that? I worked in Disney and was a character performer, I became a Patriots cheerleader, went to the Super Bowl, hung out with the Rock, and filmed a tv show. It doesn't get much better! I'm ready to settle down and start a family, pull back, and relax. The traveling and media takes a lot out of you. I can't imagine pursuing situations that make me exhausted. I think, at this point, I'm done. My brother wrote a book and I'm going to edit and work with him on that.

Don't miss the finale of TNT's The Hero, tonight at 8/7c.
(Image courtesy of TNT)

Follow Gina @ginascarpa