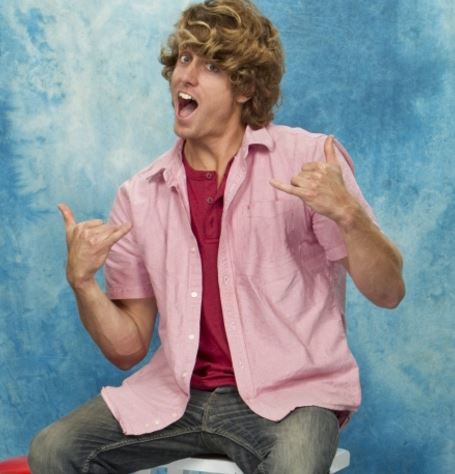 by Gina Scarpa
When David Girton entered the Big Brother house, he was hoping for a showmance and got more than he bargained for with houseguest Aaryn Gries. He developed genuine feelings for her but was blindsided and eliminated before anything too serious took place. David handled his elimination well, convinced that it was because people were jealous of him. Today, he talked to RealityWanted about his short-lived time in the Big Brother house and whether or not America is being too hard on Aaryn.
Q. Gina, RealityWanted: On elimination night, Julie said that you signed up for Big Brother because you wanted a showmance. Was that the only reason or was there more behind it?
A. David: Oh yeah, totally! I was there to meet a girl for sure, but I was there for the money. When I met Aaryn, I felt like I needed to stay because of her.
Q. Gina, RealityWanted: There's been such a division in the house this season. Did it start on the first day or did it develop over the week?
A. David: It kind of developed during the first week, like, the younger crowd versus the older crowd.
Q. Gina, RealityWanted: Was there anyone from the other side that you might have liked to work with?
A. David: I thought I could actually work with Howard maybe a little bit because he's a decent guy and he was a strong player.
Q. Gina, RealityWanted: When you got home and were able to watch everything back, were you surprised by what you saw?
A. David: Yeah, I had no clue what was going on! I was just mind boggled when I saw I got used by Nick. He was full on jealous of me because I had Aaryn and because I was stronger than him.
Q. Gina, RealityWanted: Would you say he's the sneakiest player in the house?
A. David: Oh yeah, him and Amanda are definitely the sneakiest!
Q. Gina, RealityWanted: Aaryn did say you weren't her boyfriend but she's very much about avenging your elimination. What did you think when you saw her reaction to you leaving?
A. David: That made me feel good, hearing that she cares about me and is still thinking about me. My relationship with Aaryn was going slow and smooth but then it got rough around the edges. I felt like the houseguests were trying to turn us against each other. Outside of the house, I'm totally down to get to know this girl. She's a decent human being.
Q. Gina, RealityWanted: She's been taking a lot of heat from the fans and the press. As someone who grew close to her, do you feel like people are being too hard on her?
A. David: Yeah, I feel like America is being way too hard on her. I was actually not around when she made those comments and I think she was just letting out her anger. She doesn't know what else to say so she's saying mean stuff but she's not that person at all. If you meet her one on one, she's super nice.
Q. Gina, RealityWanted: Obviously, you're rooting for Aaryn but who else would you like to see go far in this game?
A. David: To tell you the truth... let's see here. Actually, really no one except Jeremy. Hopefully, he did like me as a bro. I felt like he really cared about me.
Q. Gina, RealityWanted: Since leaving the house, what have you been up to? Do you have any big plans?
A. David: Big plans? Not really! I've just been chillin', I'm kicking it with family, and I had a good 4th.

Big Brother airs Sundays, Wednesdays, and Thursdays on CBS.
(Image courtesy of CBS)

Follow Gina @ginascarpa