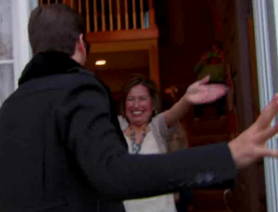 by Jessica Blackwell
Khloè, Scott, and Kourtney thought it would be fun to phone prank Kris pretending to be her friend's Joyce's son Todd Kraines. Scott played good ole Todd and invented the most annoying, most hilarious voice ever.  First they started off with the run of the mill prank calls, then they progressed to sending her flowers, and even had "Todd" call her at the restaurant she was dining at. So far Kris hasn't caught on, so I think we're in store for more of Mr. Kraines. 
In addition to his great voice impressions, Scott's shallow personality also really shined during this episode. I mean, everyone knows there really isn't much to him except the hair, but he actually admitted his shortcomings on camera. Kourtney was interested in seeing if she was a bone marrow match for her cousin CiCi who is suffering from cancer and every time her name was brought up, Scott changed the subject or made a joke. It turns out the Lord never really learned how to be there for anyone, as he openly admitted. His own father is pretty sick, and he just tries to ignore it. Kourtney made sure to let him know that his self-centered behavior wasn't ok. I mean, they have 2 children. What would happen if one of them were to get sick or even Kourtney?
Scott knew it was time to make a change even though he was reluctant to do so. He got the golden opportunity when he caught wind of a woman dying of cancer who, for some reason, had meeting him on her bucket list. After some pushing from Kourtney, Scott went to go meet Josie in Ohio. She was so excited to see him that she and her friends prepared a king's chair for him and a celebratory cake! Scott definitely got more than he bargained for during the visit, getting very emotional and boning with a perfect stranger. He even gave her a brand new rolex that he just dropped $51K on. He called the visit "life-changing" and made more of an effort to be there for the hard times. 
Bruce stated losing his hearing, probably as an effect of living with all the women that he does LOL! I kid, but losing his hearing may be some form of evolutionary tactic rather than a condition. Ok done joking, in all seriousness, the doctor thought that Bruce may have had an ear tumor that was causing his inability to hear and he had to get an MRI. Thankfully the MRI came back clear, and all he had to do was purchase some super elusive hearing aids. 
In other news on this episode, Khloè got a puppy that she and Lamar affectionately named B-Hops after boxer Bernard Hopkins. He is soo cute -  I hope we see more of him. Next week, Kendall and Kylie have some drama and baby bro Rob gets in trouble with the law! 
Keeping Up With The Kardashians airs Sundays at 9/10c on E! 
(Image courtesy of E!)