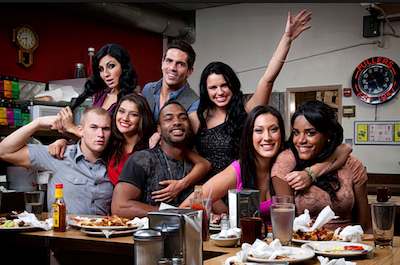 by Gina Scarpa
There was definitely no love lost between the roomies of The Real World: Portland on the reunion episode, hosted by Real World and Challenge vet, Coral Smith. She kicks things off by asking everyone if they would change their vote to boot or keep Nia, now that the entire fight has aired on television. Only Marlon would've switched and said that Nia should leave. Anastasia says she doesn't condone violence but, as Coral pointed out, she kind of was by backing up Nia. What's even crazier is that Nia even said that she'd continue to go after Johnny and Averey until the moved out. What is wrong with her?!
Ana admits that she was so attracted to Jordan initially that she even questioned her relationship with Mark... which was already questionable in the first place. Jordan, however, was so critical of Anastais throughout the season that it brings her to tears just to talk about it. In fact, she gets so fed up that she throws her gum at him and storms off the set. Judging by the blows she deals CT on Rivals 2, it seems she's handling things Hurricane Nia style.

Johnny, Averey, Jordan, and Nia took up so much attention this season that the other three were often in the background. Jessica defended the pictures she put up of Tyler, saying he liked it, but that it freaked her out how seriously she felt about him. Nia tells her that she can't always bring her past into her present, which is good advice. Ana says that fight between her and her boyfriend when he came to visit was because he was using drugs. Marlon refuses to say whether he's straight or gay, but he does admit that he wouldn't write off the possibility of being with a man again. He loves beautiful people, what can he say?
Wait, there's still one more roommate. No, not Daisy, although she makes a special cameo. Joi is back and reveals the real reason she decided to leave, and it wasn't because she would've had to serve pizza for a living. Her boyfriend needed surgery and she decided that was more important than being on a television show. Granted she did the right thing, but can you imagine what it would've been like if she stayed and Nia never came? Let's all take a moment to ponder that...

(Image courtesy of MTV)

Follow Gina @ginascarpa