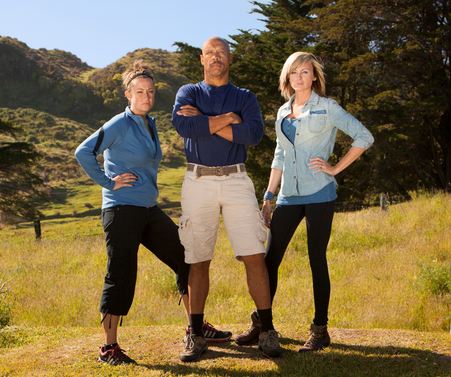 by Gina Scarpa
Imagine being dropped off in the wilderness, with nothing other than a GPS device and a bottle of water, to find a hidden briefcase with $100,000 stashed inside. If it sounds both terrifying and exhilarating, then TNT's new show, 72 Hours, is for you. The show premiered last week but this Thursday, longtime RealityWanted member Melody will get her shot at the briefcase as she makes her way across the untamed New Zealand coastline. We chatted with Melody to find out about her journey to being cast on 72 Hours and what viewers can expect when they tune in this week!
Q. Gina, RealityWanted: Tell us a little bit about your experience as a RealityWanted member and how it came to be that you were cast on 72 Hours.
A. Melody: Wow! Well, I've been a RealityWanted member for probably close to 8 years, when the site first started. I got on there and I applied. I was on a few talk shows and radio shows here and there, but nothing big. Then, I was on a TLC show called Happily Ever Faster about five years ago. My husband and I renewed our vows and they flew us out to Vegas. Honestly, I did not know I was going to hear back about this one. It's out of my element, I'm a hairstylist... the fact that they called me was a total surprise!
Q. Gina, RealityWanted: Why would you want to be dropped off in the middle of nowhere with a bottle of water and a GPS device? That sounds terrifying!
A. Melody: Because I knew I probably couldn't... okay, I wanted to see if I had it in me. I have two boys, I live in the south, and we have a ball out here in the country. I wanna do so much more with my kids but I'm scared to even take our Jeep offroading. Growing up in the south and having boys, I was like, "I have got to loosen up!" I get uptight when things don't go my way, I'm such a perfectionist. I wanted to put myself in a situation I couldn't control. I did this to myself on purpose! I knew I would probably have to face some fears. I won't give anything away, but I had no idea what I was in for.
Q. Gina, RealityWanted: Are you normally a very outdoorsy person? How far out of your comfort zone was this experience?
A. Melody: It was beyond anything I could even express into words. I don't know, it's beyond anything I could ever tell you! I'm a housewife, for goodness sake! I have kids, I do hair, I go to church... it's so opposite! I got tired of day in and day out going to work. All I will say is it changed my life.
Q. Gina, RealityWanted: In the second episode, we're going to see you and your blue team members try to make your way across the coastline of New Zealand. Without giving too much away, did you, Barry, and Meg have challenges in trying to complete this task?
A. Melody: Of course! Many, may, many! You can imagine. Just put yourself in that situation. You're with people you don't know, you're in another country, you've never met them, you don't know anything about them... I would have a hard time navigating with my husband!
Q. Gina, RealityWanted: What do you think viewers will get out of tuning into this season of 72 Hours?
A. Melody: Oh my gosh, so much! I think people, just watching, it's going to give them what they need to get out there and do something like this. If I were to watch this, and I don't even know what the other episodes involve, I just know it would make me want to get out there and do something. Just watching that makes you wanna try something crazy!
Q. Gina, RealityWanted: Are you interested in continuing to pursue television?
A. Melody: Yeah! My main thing is that I love doing hair. I love what I do, and I love being a mom. I guess the thing was that I got used to the cameras being there and I forgot they were there. I would love to do more traveling. Television would be awesome, but I just love world traveling. I've been out of the country before but this broadens my horizons. I don't wanna steal Brandon [Johnson]'s job, but I would love to host a travel show.

72 Hours airs Thursdays at 9/8c on TNT.
(Image courtesy of TNT)

Follow Gina @ginascarpa