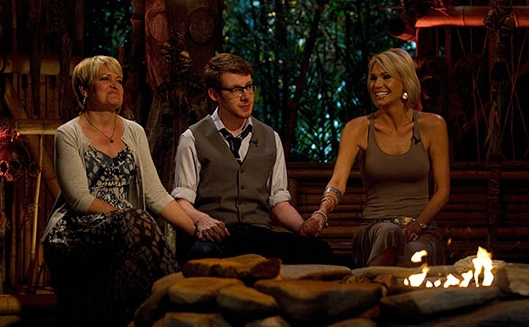 by Gina Scarpa
On last night's live reunion episode of Survivor: Caramoan, superfan turned favorite Cochran swept the jury votes and won the million dollar prize. After getting over the initial shock, he told Jeff Probst that the first time he played, he was so anxious and worried about how he would be perceived, that it hurt his game. Now, he's way more accepting and proud of himself, and has decided to leave his career path of being a lawyer behind and perhaps get into writing instead.

Dawn jokes that she's received emails from fans and friends alike about the medical benefits of crying. She must be the healthiest person on the planet! It turns out she didn't just feel the wrath of the jury, but fans of the show as well. The backlash was bad, but she said she didn't let it get to her. Jeff brings Brenda into the conversation via satellite, causing an uncomfortable moment for both women. Brenda has been avoiding Dawn's calls, and Dawn tries apologizing again, but Brenda says it's still going to take some time. Why is Brenda appearing via satellite, you wonder? Right after filming wrapped on Survivor, she got pregnant and is due any day!

Phillip is convinced that people love the way he played the game this season and even traveled around the country while the season was airing to watch episodes with fans. He also bestowed an amazing nickname on an unsuspecting Probst, The Piercing Eagle. Welcome to Stealth R Us, Jeff! Boston Rob stands up in the audience and calls Phillip the most entertaining character on television, then bestows a copy of "The Boston Rob Rulebook" upon him. Yes, it's a real book that you can purchase.
The attention is turned to resident heartthrob Malcolm, who had no break in between his two seasons and says he learned humility from playing the game. He went in, totally assuming he'd dominate a person like Cochran and learned quickly that that wasn't necessarily the case at all. He did a stint on The Bold And The Beautiful, and I'm not sure acting is his thing but I have a feeling it's not the last we've seen of him. Andrea laughs off her gameplay, saying the boys tend to get her into trouble and says she thought about selling her hidden immunity idol that she left the game with but her mom wouldn't hear of it. I sincerely hope that was a joke.
If you can believe it, it's been 13 years since we first tuned into Survivor and watched Richard Hatch win in Borneo. Representing that first season in the audience, is Rudy Boesch, who is now 85 and looks damn good for his age! It could've been a nice moment, but instead he opted to keep using the word "queer" to describe Richard Hard, who appeared naked in a video, asking Rudy to rub sunscreen on him. Really? I had to sit through that instead of hearing from Brandon or Shamar? I can't even find them in the audience!
The Sprint Player of the Game comes down to Malcolm and Brenda, but Malcolm takes home the prize. That triple immunity play at the tribal council that sent Phillip packing is definitely one of the best in the show's history.
Finally, we close with a very small announcement about Season 27. In fact, all we get is the name, Blood Vs. Water. What does it mean? We'll have to wait until September to find out!
(Image courtesy of CBS)

Follow Gina @ginascarpa