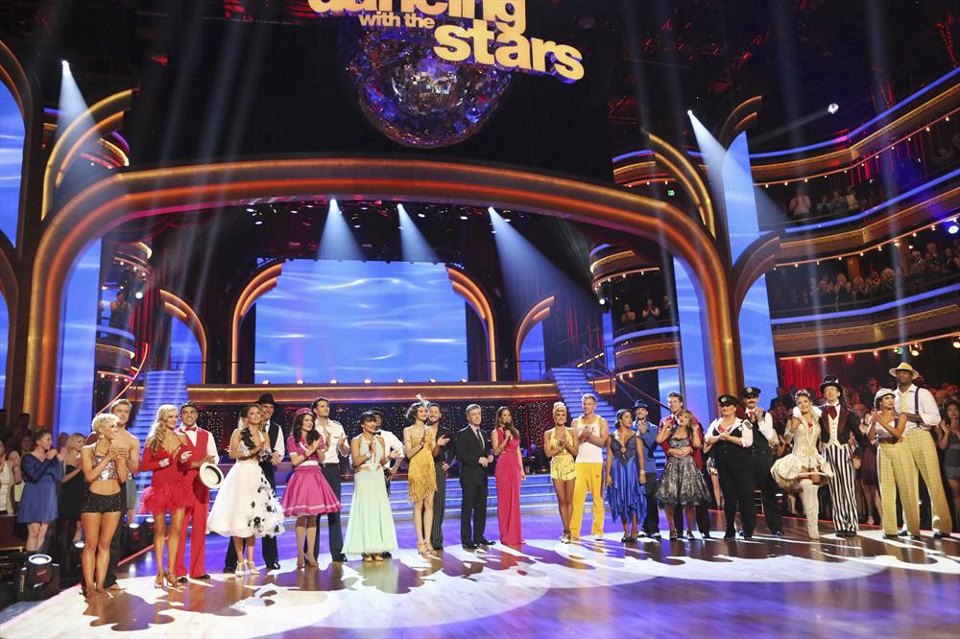 by Kylene Hamulak
The first results show of the latest season of Dancing With the Stars comes following two dances from each of our couples. Who will survive to see Week 3? I have my guesses, but let's see how it all plays out.
First Trio to Safety: Ingo and Kym are the first to be declared safe, though they don't hear it the first THREE times Brooke announces it because it's so loud in the ballroom. Sean and Peta are safe too, as are Wynnona and Tony. She heard the news but didn't believe it. Not as lucky? Victor and Lindsay, who are the first couple in danger.
#Encore: It's not really a surprise that Zendaya and Val won fan support via Twitter to be voted as the encore performance. It was as entertaining the second time around as it was the first. Tom tries to make it seem like there's suspense as to whether or not they'll return, but, I mean...come on. They're safe, and we all know it.
Second Set: Aly and Mark get their pass to next week. DL promises us there will be no restraining order if he gets to continue, and guess what - he's safe! That's kind of a surprise to me, but also to DL and Cheryl, who practically fall down the stairs in shock. Lisa and Gleb work out a strategy to score higher by scoring with Len, if ya get my drift. They should've thought that out sooner - Lisa and Gleb are in jeopardy.
Reality Check: The stars talk about their DWTS experience so far - apparently none of them has watched the show before because none of them had any idea what they were getting themselves into.
They Don't Care: Icona Pop brings their hit that I've never heard before, "I Don't Care" to the dance floor. It's like stepping into Prom on Saved By The Bell, and it's kind of catchy. I can imagine myself humming the chorus in any number of situations where I just don't care.
Meet the Rookies: The new troupe members, Julian and Whitney, are introduced to us, and Lindsay and Gleb get their proper debuts as well. Whitney, like Lindsay, was on So You Think You Can Dance last summer. I remember them being good friends in the dance world, so this must be an amazing experience for both of them.
No Surprises: Zendaya and Val (told ya so),  Kellie and Derek, and Jacoby and Karina are all easy picks to continue next week. Jacoby previews a victory dance that I figure he'll incorporate into a routine at some point.
Season 17 Star? Josh Groban, a frequent guest on DWTS, is back to perform "Brave." You know what would really be brave Josh? If you came back to dance instead of sing. I guess we have to wait for your star to fade a little bit though.
Going Viral: Apparently there's a new Twitter sensation called "The Mergalo" started by Sean and Peta. Look it up.
The Rest for Last: Andy and Sharna and Dorothy and Tristan are the final pairs to learn their fate. Tom announces that Dorothy and Tristan are safe, putting Andy and Sharna with Victor and Lindsay and Lisa and Gleb in danger. Seems like being paired with a newbie isn't where you want to be! Andy and Sharna are declared safe - leaving Victor and Lindsay and Lisa and Gleb as our stars in the Bottom Two.
NOOOOOOO: When Tom calls Dorothy and Tristan back to the dance floor, I know it's bad news. Dorothy announces that, based on medical advice, she will be withdrawing from the competition. It's sad of course, but mostly? Mostly, I'm sad that, ONCE AGAIN, we're losing Tristan from the competition too early. I think she could've gone far in the contest if she was healthy, and I hope Tristan gets paired well in his next season.
Final Thoughts: Because of Dorothy's withdrawal, we won't know who had the actual lowest vote total. It's not exactly a clean slate going into next week, but it does make things interesting for the lowest scoring couples. Clearly, having a veteran pro has a certain advantage that the rookies will have to overcome, which means those stars will have to work extra hard make up for that handicap.
Next Week: Prom Night in the Ballroom!
Dancing With The Stars airs every Monday at 8/7c with Results every Tuesday at 9/8c on ABC!
(Images courtesy of ABC)
Follow Kylene on Twitter @keepingupwithky!