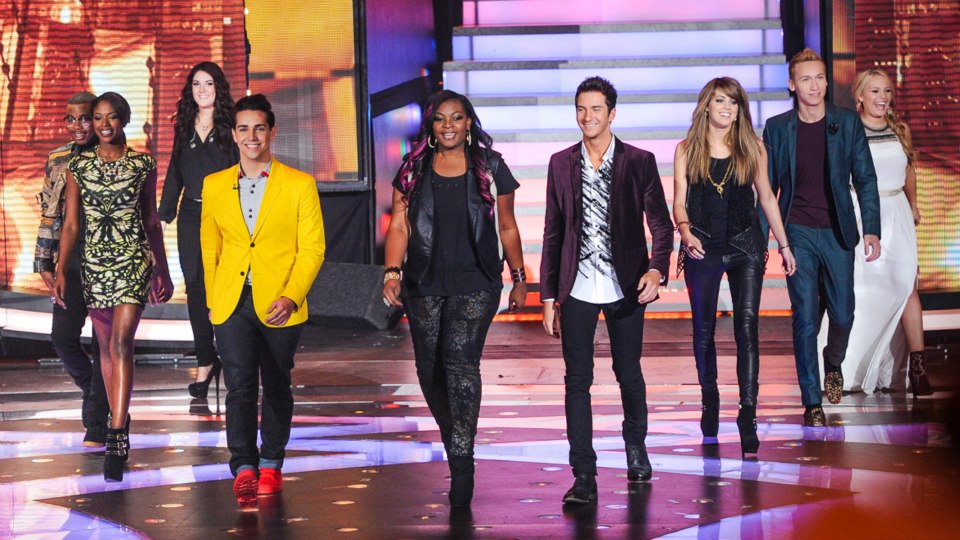 by Kylene Hamulak
Our Top 9 Results of American Idol opens which Ryan's typical promise of a surprise. Honestly, at this point, the only surprise for me will be if a girl goes home.
Jimmy's Recap: Jimmy was confused last night. He didn't hear what the judges did - he wants them to be honest, he wants the good to get better and the bad to learn from their mistakes. Kree deserved her applause, and he enjoyed Burnell. Lazaro, as expected, gets the prize for worst of the night, and Jimmy's pissed that he claimed he just learned the song that he was working on several days before. Amber and Candice are both high on Jimmy's list, while Paul gets Bottom 3 status. Interestingly, Jimmy comments on Angie's dramatics, which *ahem* I noted last night as well. He's pretty lukewarm about Devin, but loves Janelle's restraint. And then Jimmy calls her the dark horse. Which also sounds familiar. Methinks Jimmy's been reading my recaps.
The Not-Quite-Fab Four: Devin, Lazaro, Paul and Burnell perform "Got to Get You Into My Life" with a lot of brass and a fair amount of sass. Oh gosh...even when the girls aren't on stage, it's totally obvious how outmatched the guys are.
Still Jolley? Ryan presents Paul with a proclaimation from his hometown that March 16 was Paul Jolley Day. Aw, that's nice. And he might get to thank them all in person this weekend, since he's in the Bottom 3, just as Jimmy predicted.
The Mountain Man Is Back: Season 10's Casey Abrams returns to cover "I Saw Her Standing There" in his own unique bluesy jazz style. There's a lot of scatting, and it's cool, but when I see him standing there (no pun intended) with his upright bass, he just sort of reminds me of that little kid in the Peanuts.
Here, There, and Everywhere: The ladies are taking on the Beatles' classic, and it's expectedly beautiful. I'll take a page out of Keith's script and let you know this is one of MY favorites. Remember when Clay Aiken sang it? Good times. Anyway, their solos are lovely, and my only complaint is that it's MORE ballad. Uptempo! Soon? Please? Sigh.
2-for-2: Ryan asks Devin about his lack of connecting, and Devin explains that next week he'll just have to connect with the song more. Oh. Ok. That seems simple enough. I mean, IF you get to next week...cause you're joining Jolley in the Bottom 3. Just like I said you would.
Was That the Surprise? Lazaro tells Ryan he has learned that he has to stick to songs he loves and not change them. I'm not surprised when Lazaro is safe - are you? It's not the did well last night, I just think people are voting for something more than his voice.
Runner Up Returns: Last year's runner up Jessica Sanchez's life has totally changed since she joined Idol last year. Apparently she's been singing places and modeling and is going to be on Glee AND she's got a new single with Ne-Yo called "Tonight." Which, coincidentally, is also when she performed it.
No Particular Order: Unlike last week when we got to see the placement of our Idol wannabes, this week it's all a mystery.  Safety comes in no particular order as the following join Lazaro:  Kree, Candice, Angie, and Janelle. It comes down to Amber and Burnell for the final spot in safety. WHAT? Amber? Burnell?
Bottom 3: When Ryan declares Burnell safe and Amber in the Bottom 3, I have to admit I'm surprised. Well played, Seacrest. The judges don't think Amber belongs in the Bottom 3, and neither do I.
Sing for Your Life: Paul is given the mic one last time after Ryan reveals he had the lowest number of votes. He brings back Heart's "Alone," and, let's face it. The boy is no Carrie Underwood, who gave my favorite performance of this. Paul knows they're not going to save him even before the chorus comes in.
Paul Jolley is eliminated.
Final Thoughts: Not at all surprised that Paul is going home, but watching his farewell makes me wish he could've been a better contender. Next week's theme brings us the music of Motor City, and that covers a LOT of great songs. Can some of them NOT be ballads please?
Were you surprised by this week's results? Let us know if you agree with the vote in the comments below!
Catch American Idol every Wednesday and Thursday at 8/7C on Fox!
(Images courtesy of Fox)
Follow Kylene on Twitter @keepingupwithky!