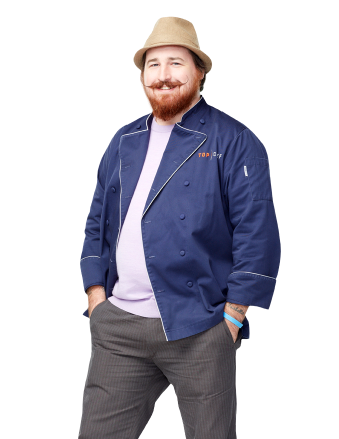 by Gina Scarpa
Calling last week a tough few days for Top Chef: Seattle contestant Josh Valentine is just a bit of an understatement. His wife went into labor back home, and he missed the birth of his daughter, as he fought for a spot in the finale in Alaska. His foie gras dish, prepared three different ways, missed the mark in the judges' eyes and he was eliminated. At Last Chance Kitchen, up against Lizzie and Kristen, he was the first one eliminated as the other two wait to see which one will re-enter the competition. We caught up with Josh today in an exclusive interview to find out what drew him to Top Chef, his feud with John, and whether or not he felt he cooked pork too much!
Q. Gina, RealityWanted: Why did you choose to audition for Top Chef at this point in your career?
A. Josh: Well funny story. I came home from work one day and my wife said, "They're having auditions in Denver. I bought plane tickets, we're going!" That's how I ended up on the show. It's not something I thought about pursuing or doing. For me, the only thing I wanted to get out of it was to win. We all want a little more notoriety and attention. Being from Oklahoma, there's not a huge spotlight on the culinary world.
Q. Gina, RealityWanted: Did any of the chefs this season stand out to you initially?
A. Josh: At the beginning, I didn't know enough about everyone. I think we all went in there with a clean slate. I just didn't know. It's a little intimidating when people go around the room and hear their accolades. Sheldon's a Food & Wine Best New Chef winner, James Beard nominee, Kristen works for Barbara Lynch who is a culinary stud... hearing resumes, you get a little intimidated but at the end of the day, it's all about cooking. That was the real aim.
Q. Gina, RealityWanted: Obviously, you and John didn't get along this season and when I talked to him, he was convinced it was personal on your end. Was there more to it or was it just the spirit of the competition?
A. Josh: No! I mean, John is obviously living in a fantasy world. That's the first time I ever met John. I knew John by reputation from living in Dallas previously. I think he loves the title of Most Hated Chef. He's like Gary Jones, who runs the Dallas Cowboys. Whether it's good or bad press, it doesn't matter. It's all press. I didn't have anything against John going into it. Once I saw how he was, I lost some respect for him. I've run into him a few times and it's kinda the same thing. I try not to worry about him!
Q. Gina, RealityWanted: You took some heat sometimes for doing breakfast or pork a lot during the competition. What's your response to that?
A. Josh: You know, the pork moniker is a bit of a misconception. When I say I like pork and pigs, I do charcuterie, I do butchering. When they hear that I love pork, they think I love cooking pork chops. I think that's a misnomer about me. As far as cooking breakfast, I grew up eating breakfast for dinner, I ate it all the time! It's something I do well. The last challenge, I was watching it and reading these people tweeting and saying, "Oh he's doing breakfast again?!" I was thinking about my family, and my dad, and I always had breakfast on the table. It just felt right for me to do a breakfast at that moment. It's a glacier, it's cold, and breakfast is warm and hearty.
Q. Gina, RealityWanted: It was so tough to watch you and your wife be apart from each other when your daughter was born. Were you able to put it out of your mind at any point, or was it weighing on your mind the entire time?
A. Josh: No, it was definitely weighing on my mind. I tried to keep it in the back of my mind to where I could focus. Anytime you're away from your loved ones, it's difficult. When your wife needs you and you can't be there, it's tough!
Q. Gina, RealityWanted: Tom felt like you were overcompensating with your foie gras dish. Do you feel like you could've simplified things?
A. Josh: I don't feel like I was overcompensating! I just feel like I bit off more than I could chew. I've worked with fine dining and it was relatable to the challenge. The first time I had foie gras, it tied in everything I had read about it. I think I had been a little too ambitious. I had the mindset of when I have an idea on a challenge, I was just going to roll with it. I was either going to live by it or die by it.
Q. Gina, RealityWanted: Was it tougher to be eliminated right before the finale in the competition itself, or at Last Chance Kitchen?
A. Josh: Between those two, I think losing right before the finale was harder. It took me some time to get over it. At the end of that, I was just super emotional. For me, it was hard because I had just missed the birth of my daughter and I didn't want all of that to be in vain, not winning the competition. I wanted to have a reason for missing my daughter's birth. Winning would be a great reason but just to come up short leaves a bitter taste in my mouth.
Q. Gina, RealityWanted: How are things going for you and your career?
A. Josh: You know, Georgia is 6 months old now and she's keeping me pretty busy. She's great. I'm a pastry chef in Dallas at FT33. We're a new restaurant, about five months old. Things are going well, I'm super busy and working! I'm kind of a small town guy from Oklahoma. To have random people come up to me and ask me for a picture or autograph is kind of different for me, but it's a lot of fun. People seem to be supporting me and have my back. That's really neat to experience that! Being a full time celebrity, there's no way I could do that, but it's a lot of fun right now. I'm an everyday person that happened to be on a reality show.

Top Chef: Seattle airs Wednesdays at 10/9c on Bravo.
(Image courtesy of Bravo)

Follow Gina @ginascarpa