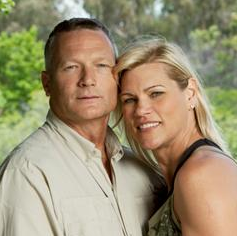 by Gina Scarpa
Many a team have exited The Amazing Race well before they'd like to either because they didn't read their clue properly or they didn't understand what to do or where to go next. The latter happened to engaged couple Rob and Sheila as they searched for a woman with an abacus during the first leg in China. It came down to a footrace between them and another team but they were the last to arrive, leaving the race after just one episode. We caught up with the couple today to find out more about their experience running The Amazing Race and how they handled being told they were eliminated.
Q. Gina, RealityWanted: Whose idea was it to try out for The Amazing Race?
A. Sheila: That would be Rob's! At first, I have to be honest, I was a little bit taken aback by Rob wanting to do this. He's used to performing and being in front of cameras or audiences and I am not. The thought of having a camera in front of me 24/7 was very intimidating.
A. Rob: Let me quote her. She said, "Hell no!" But The Amazing Race is reality tv at its best. You have relationships and then you race around the world and it's real. I've been a competitor my whole life, I've traveled producing lumberjack shows. I just been an adventurist my whole life and I just thought it would be an amazing opportunity to engage in a competition unlike any other and really kind of use what I feel are some skill sets that I have.
A. Sheila: Now, I would be the one pulling Rob into this because it was truly an amazing experience. It's a reality show competition but it's really about relationships and your time with your partner.
Q. Gina, RealityWanted: When you arrived to compete in Pasadena, were there any teams that stood out to you right away as threats or people to keep your eye on?
A. Sheila: Well, who really made an effort to stand out were Abbie and Ryan. They are absolutely in everyone's faces. A very confident young team that put themselves out there to be "the team to watch".
Q. Gina, RealityWanted: The rappelling off the bridge was scary enough but the way you had to swing out there made it worse! How were you feeling about the first task you had to complete?
A. Sheila: Well, the thing is that I'm scared of heights and so in preparing for The Amazing Race, Rob made me go bungee jumping. He just asked that if we had something to do with heights, don't hesitate.
A. Rob: I think it was "Don't hesitate, or I'll push you!"
A. Sheila: We're on the ledge. Getting my feet on the other side of that was so scary! I have to say I didn't hesitate, I went right out there.
Q. Gina, RealityWanted: Being on the second plane to China, did you feel you were at disadvantage going into the first leg?
A. Rob: Oh no, it was very troubling, very concerning being on the second plane. All of a sudden, the race really changed to where it now became four teams. It was very hard to know we were that far behind. So yeah, it was very troubling.
Q. Gina, RealityWanted: It seemed very hot in China - everyone was sweating bombs in that episode. Was it the climate or was it the intensity of the situation?
A. Sheila: It was warm but it was so intense! We were sweating and then, the running! I don't think we even stopped and thought about it.
Q. Gina, RealityWanted: How long were you running around the bank?
A. Sheila: About 40 minutes?
A. Rob: Well here's what happened. You run into a bank and you ask where the woman is with the abacus, and they say the third floor. You go up there and you ask them and they don't know what you're talking about. You go back down and ask if he's sure it's the third floor. He gives you the same answer! Then, you bump into people and they're pointing down a street. Of course, you're thinking they know where everybody else had run off to. Then, a British National comes over and tells us it's a carving on the bank of a bank! So you run around there looking for it and then you finally go, "This can't be what we're supposed to what we're doing."
Q. Gina, RealityWanted: In all the years I've been watching the race, I don't think I ever saw a first leg end quite like that. It was so close! How did you handle your elimination?
A. Sheila: Well, it was such a crazy finish! I don't believe that four teams have ever been on the mat before. That's what Phil had told us. The Chippendales were on the first flight and had a couple hours on us and it came down to a footrace with them. So that was hard! I have to tell you, it was very difficult to lose during the first leg. It was horrific! It so tight, it's like "Fifteen seconds and it would've been a different outcome!" It was a struggle for me but at the end of the day, we get to come home to a beautiful country, we have a gorgeous life, and most of all, we have each other!
A. Rob: I'm still getting counseling!

The Amazing Race airs Sundays at 8/7c on CBS.
(Image courtesy of CBS)

Follow Gina @ginascarpa