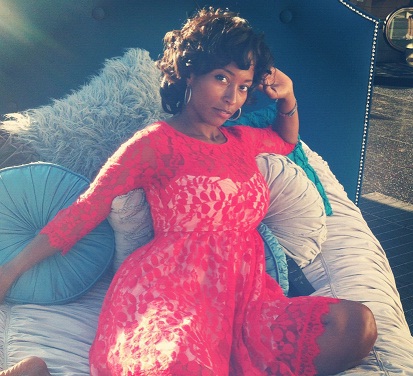 by Gina Scarpa
Deena Jacobs wasn't a RealityWanted member long before things started blowing up for her. Soon after signing up, she was contacted by casting agencies and directors, landing shows with Kim Kardashian, Dr. Drew, and Dr. Phil to name a few. Through her work on reality tv, Deena landed a sketch comedy show on Comedy Central's Adult Swim and she shows no signs of slowing down. Check out our interview with her to find out more about her success through using RealityWanted, her advice for other members, and her ultimate goal.
Q. Gina, RealityWanted: What made you sign up for RealityWanted?
A. Deena: I think I came across it by accident! I think I went online and did a search for reality casting and came across it. I think this was back in late 2010. I was like, "Let me see what this is about!" I had made a decision. What's the fastest way to get noticed? Right now, the fastest, easiest way is reality. I thought of Jennifer Hudson and people who have taken their reality careers and shifted into other things. I thought I'd go out and submit as much as possible. RealityWanted let me do that all in one place and this gave me that professional edge. The casting directors are going there, looking for people.
Q. Gina, RealityWanted: How soon after signing up did you start getting jobs?
A. Deena: Right away! The biggest job I've done was when I did The CW's H8R with Kim Kardashian. That was all over the blogs and people were really talking about it. That was one of the first five or ten auditions that I submitted.
Q. Gina, RealityWanted: What do you think it is about you in particular that casting directors are drawn to?
A. Deena: I'm a really unique being! I have no filter, I'm beautiful, I'm African-American, I give them something different than what people are used to seeing. I'm a performer so I understand how to be professional and read between the lines on what the producers are looking for. I am trained and I know how to do improv and then, I bring my natural ability. To be successful in reality, you need to be comfortable with who you are.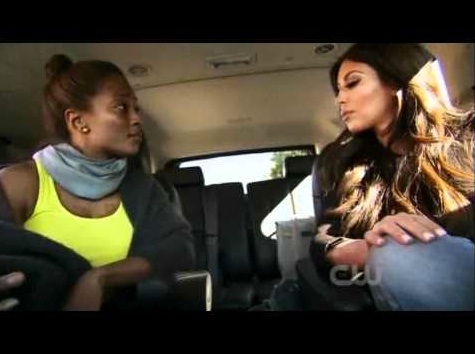 Q. Gina, RealityWanted: Have you found that it's to your advantage that you've done several reality shows or are there casting agencies that stay away because of that?
A. Deena: It's a double edged sword, to be honest with you. Hollywood is all about the illusion. You kind of have to read the casting director and the producers to see what they want. There can be a negative connotation but you need know how to pitch yourself. That's the industry that we're in today. Every artist is self-made. It's not like everyone has an agent, a manager... you have to sell YOU. What happened for me was through my reality work, I made a great impression on one of the production assistants and he ended up remembering me and called me in for a sketch comedy show, Loiter Squad. They asked me to come back for the second season, and do writing!
Q. Gina, RealityWanted: What advice do you have for RealityWanted members that are trying to get on television?
A. Deena: Follow your intuition and be absolutely authentic in that situation about who you are. It's about taking different aspects of your personality and emphasizing them. It's just using improv skills. I have been on a diverse range of shows, from animal phobia shows to going up against Kim Kardashian to being the wronged woman on Dr. Drew to a more universal woman. I've taken different aspects... if you're truly an actor, you have multiple personalities, period. It's part of our craziness. If you're truly an artist, then you should have no problem in taking those different aspects and bringing them to the table. Deena is something I created for reality.
Q. Gina, RealityWanted: What's the ultimate goal?
A. Deena: I am really interested in comedy and I try to bring an element of comedy to everything I do. I came to be a film star and that's part of my path. We're in a new era, the industry has changed tremendously. I see myself still achieving my ultimate goal. I wanna produce, and be an A-list actress.
Q. Gina, RealityWanted: What is going on for you now, reality wise?
A. Deena: I just got something for The History Channel, just something small about sex and relationships. I have the second season of Loiter Squad which is on Cartoon Network and also, I have a YouTube channel that gets featured on blogs often. I'm building a fan base.
Q. Gina, RealityWanted: Final thoughts?
A. Deena: I think the industry is really challenging and this is all across the board. I think we're being really challenged right now, the greatness of who we are. We need to keep an open mind about different opportunities in the industry. I'm a trained actress. A lot of trained people ... there's a level of snobbery that exists. Everyone kind of has to get over it. Things are changing. We're seeing people blowing up on YouTube or from reality tv. There's no one way to do it anymore. At the end of the day, we're here to have fun. If you're not having fun in whatever it is, then you shouldn't do it. I'm having a blast doing reality! It's so open and free!
Check out Deena on YouTube and IMDB!

(Image courtesy of The History Chanel)