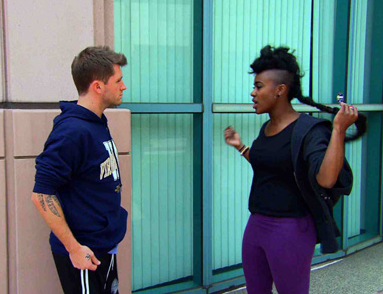 by Gina Scarpa
Poor Kyle has felt pretty removed from Shaping Sound on All The Right Moves, but he's hoping to become more involved. The guys need a theater and have to market their show which, by the way, is oh.... TWO WEEKS AWAY. They decide to use Kyle as their "hot secretary" (Nick's words, not mine) and have him do all the legwork for securing a venue.
At the studio, Travis choreographs a duet for Kyle and another dancer, Chantel, that seems like it's the story of the relationship between Noelle and Kyle. In the routine, things started out great for the couple and they wanted to be around each other all the time but one breaks the trust and things fall to pieces. As the routine, beautiful as it is, goes on, it's clear that it's getting to Noelle. Travis pulls Teddy outside to confront him about creating an uncomfortable situation and when Nick finally finds out, he's pissed to be the last to know.
Taja finally shows up, weeks after her blowup with Travis, and asks to talk to him outside. All she does is make excuses for her behavior and even goes as far to compare Travis to her father, with whom she has a very strained relationship. She does finally apologize but it still seems like she's being manipulative. Not sure I see her staying in the company.
Trying to find a theater is a lot harder than it sounds. The Million Dollar Theater was totally wrong, the Belasco Theater was thousands more and didn't even have a stage. People, we are days away from this performance!
Kyle heads to an audition for a sitcom with a casting director that interrupted him 872 times, and then told him he needed to take more classes. Knowing that Travis is overloaded and stressed, his boyfriend Dom flew in from Miami to surprise him, which totally made his day. They were too cute cuddling on the couch together! Since it was Dom's birthday a few days ago, the guys throw him a party. During the celebration, Jaimie asks for a cameo in the upcoming show but Travis turns her down, saying she hasn't fully healed yet. He's just looking out for her best interest while she's recovering from her injury, but it's still hard for her to hear.
We finally have a theater! Kyle suggested the Saban Theatre and it's beautiful and perfect. There's just one problem. It's going to cost $17,500 which is almost the entire budget for the entire show! The guys come up with an awesome idea to hold a fundraiser and silent auction to come up with the remaining cash. They throw it together at the last minute, perform a quartet, offer private lessons and choreography sessions (for a price) and end up raising $8150. That's just what they needed! Saban, here we come!!
All The Right Moves airs Tuesdays at 10/9c on Oxygen.
(Image courtesy of Oxygen)

Follow Gina @ginascarpa