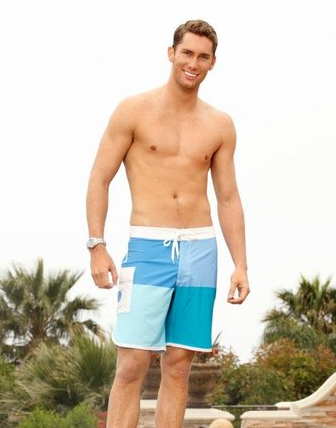 by Gina Scarpa
If you told me during Emily's season of The Bachelorette that I would end up like Kalon McMahon, I would've thought you were crazy.  And yes, that's exactly what happened when he stepped foot into Bachelor Pad and met Lindzi Cox.  The two formed a relationship that felt natural and sincere, and both laid low through much of the drama that took place this season.  Realizing that their bond was getting stronger with each passing day, the other couples saw them as a threat, weren't sure if they could truly trust them, and eliminated them on last week's episode.  Following his elimination, Kalon talked to RealityWanted and reporters in a press conference call about the game and his relationship with Lindzi.
Q. Gina, RealityWanted: During your season of The Bachelorette, a lot of people had a strong reaction to you and didn't like you very much, but you were very likable on Bachelor Pad. Did you change your strategy coming in or do you think Lindzi brought out the best in you?
A. Kalon: Well, to be completely honest, I don't know if it was necessarily either. I can't say that I had a specific strategy going to either show. We filmed them very, very close so I was still the same person. It was just a very different environment. I was much more comfortable, much happier, much more outgoing on Bachelor Pad just because simply of the dynamics. And then obviously, I had a much, much better connection with Lindzi than I ever did with Emily so naturally I am going to be a happier person. I'm going to be myself. The Bachelorette was my first experience in tv so it was a little bit overwhelming and I just think by the time we filmed Bachelor Pad, I was little more comfortable. I was aware of what was going on and obviously just in the state where I could absolutely enjoy myself and, specifically, my time with Lindzi much more. So I guess I just came across on camera.
Q. Gina, RealityWanted: You guys are a really great couple and very unexpected. Can you tell us the status of your relationship now?
A. Kalon: Absolutely. After the show, we actually stayed in Santa Monica for a few days and then I went up to Seattle to visit her and then she's been down to Southern California to visit me. So it is frustrating that we live in different cities but every weekend we have an opportunity to see each other and we absolutely talk on the phone every single day. We visit each other on the weekends whenever we can. So it's certainly a long-distance relationship but we are doing everything we can to make a healthy one.

Q. Do you guys have any plans to try to relocate near each other?
A. Kalon: We're taking baby steps. It was frustrating, me being in Texas and Lindzi being in Seattle. For a number of reasons I'm going to be in California for the next couple of months. So at least now were in the same time zone so that helps. And obviously a two-hour flight to see each other is much more feasible than a foreign half hour flight to see each other. She doesn't necessarily want to live in Seattle for the rest of her life so I probably wouldn't necessarily consider moving to Seattle so let's see may be someone else that we could both, would be accommodating to our lifestyle before we took that step into living together.
Q. I really liked seeing you two fall in love and everything but I was wondering if you guys talked any more about your time on The Bachelorette and maybe the comment you made about Ricki and then did you feel that she was fully over her time with Ben and ready for a serious relationship?
A. Kalon: Oh, absolutely. And to be honest that's how I immediately knew I liked Lindzi because the very, very first night in the house she walked up to me and said, "You know what? I get it. I understand kind of what you meant. Maybe you didn't say it the way you intended to but you're kind of right. I get what you were trying to convey." So she really put me at ease and made me feel comfortable and then we kind of had a long-winded conversation about it over the next couple days and she filled me in on her season with Ben. I did watch her kind of fall in love on TV with this other guy which was a little weird now that I was completely crushing on her. At the same time, I understand how the show was made so I get it and we were sympathetic towards each other in both regards and it absolutely did not hinder our relationship whatsoever and we have developed extremely quickly in that environment.
Q. You tried very hard to rally votes in your favor before the rose ceremony in which you and Lindzi get eliminated. How confident were you going into that ceremony that you were going to stick around longer?
A. Kalon: No, to be completely honest, Lindzi and I were pretty much aware that we were going on that day. We had mentally prepared ourselves and we were okay with it. As much as we wanted to be there and win the money, we saw kind of how ugly the game was starting to get and we both promised each other that we weren't going to be that emotional couple running around the house throwing ourselves at people lobbying for votes because we knew that when we left the house, as sad and frustrating that it might be, then that was going to be the start of our real relationship. We realized that the chances of us actually winning the money in the end were probably slim.
Q. How was Lindzi different from Emily, in your eyes?
A. Kalon: I can talk all day about that one but I'll try to keep it brief for you guys. They're obviously very, very different people. As we are all very, very different people. It can be very awkward to develop a relationship unless you already do have a lot in common and unfortunately, Emily and I did not have a lot in common but given the circumstances I was absolutely willing to make a genuine effort to see if anything could happen. With Lindzi, on the other hand, it was just natural. She was that girl that if I would have run into in real life, I believe that something would probably organically formed. Emily, I probably wouldn't pursue in real life. Given the circumstances are put in a situation where you kind of have to see if there's anything there. The thing with Lindzi was that it was literally effortless. We kind of just hanging out and talking and before we knew it we looked around and realized, "Wow, we're kind of a couple but this is awesome." I wouldn't have changed it for anything.
Q. Before the rose ceremonies each week, it seems like you could just tell everyone what they wanted to hear and somehow convince them that you were telling the truth to them. How did you do that?
A. Kalon: Honestly, I think the way the show is framed it gives me too much credit. Lindzi and I honestly went into the rose ceremonies every night with a clear idea in our head who we were voting for because it was usually the obvious decision. It just simply made sense other than one or two times. Because I'm not a confrontational person, it is much easier to just simply tell someone what they want to hear, agree with them, and then kind of go on about your business. Until the very end, the voting was secret. No one knew who you were voting for until Chris had the brilliant idea to take Erica into the voting booth with him and that changed the dynamic of everything. But, I mean, I didn't consider it lying or being deceitful. It's just kind of the name of the game. It's a awkward game that you wouldn't play in real life so in order to thrive, you kind of just have to tell people what they want to hear.
Q. What's the most challenging thing you experienced on Bachelor Pad?
A. Kalon: There wasn't really anything challenging. I can see how some of the people leaving the show if they were genuinely surprised or if they were having to leave someone behind could be very, very challenging. Fortunately for Lindzi and I, we were both kind of mentally ready to go so we weren't shell shocked. So we weren't surprised, and we got to leave together. For us, there really wasn't anything challenging. Other than that, I guess maybe the challenges themselves were all pretty funny and interesting. Obviously, we completely flopped at the spelling bee. So maybe the spelling bee was the toughest challenge for me.
Bachelor Pad airs Mondays at 8/7c on ABC.
(Image courtesy of ABC)
Follow Gina @ginascarpa