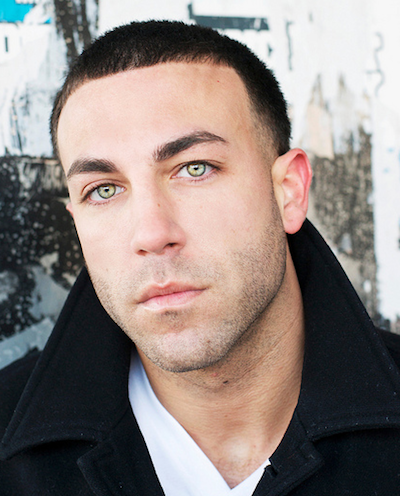 by Gina Scarpa
RealityWanted member Chris Scali recently found himself as the object of Carmen Electra's affection, something thousands of guys can only dream of. The good looking and charismatic bartender from New York was cast on FOX's The Choice and beat out many others to win a date with the sexy star. Since then, he's been cast on a second reality show and while filming in Chicago, we spent some time talking to him about the success he's found thus far, got some casting advice based on his experiences, and looked at his big goal when it comes to reality television.
Q. Gina, RealityWanted: What made you decide to sign up for RealityWanted?
A. Chris: A friend told me about it and I didn't know if it would work or not. I would go through the emails every day. It got me on Fox and right now I'm in Chicago and I got that one, too. I'm in the Hilton in Chicago as we speak.
Q. Gina, RealityWanted: Were you applying for everything or were you picky about what you went for?
A. Chris: I absolutely was picky. I wasn't seeking fame. A lot of people who get into reality are desperate for fame. It's all about how you present yourself and about waiting for the right casting call to pop up. I'll look through 50 casting and not see one I want to do.
Q. Gina, RealityWanted: How did you end up on The Choice?
A. Chris: I applied on RealityWanted. It said "Star Date" at the top. They called me back a week later and they wanted to bring me to Los Angeles and once I got there, I was there for a week. I auditioned, came home for a few days, and then I came back. Honestly, this may sound silly, having no confidence in myself... they pick guys from all over the world. There were lawyers, doctors, engineers, Yale grads, members of the Coast Guard, and I'm just some bartender from Brooklyn. It was intimidating but I was just myself and I happened to win. I had a date with Carmen Electra and she fell in lust with me on national television. It was great exposure.
Q. Gina, RealityWanted: Why did you choose The Choice?
A. Chris: I take pride in a special knowledge and wisdom of women that I have. I wanted a chance to prove to the world that I have what it takes to make a celebrity possibly show interest in me. I don't have a lot of money, I don't have a fancy job, I'm just a regular Joe Shmoe but you can still be attractive and sexy... I'll put it to you this way. It's a lot harder for a man to attract a female celebrity than it is for an attractive woman to attract a male celebrity. Men are dogs, you know what I'm saying?
Q. Gina, RealityWanted: Was being on The Choice what you expected?
A. Chris: Not at all! I had to basically go on a stage that I've never seen before in my life. There's no practice, there's no cut or retake, nothing like that. You walk on the stage, you get one chance and one shot, no script, and I had thirty seconds to spit game at celebrities who didn't know what I looked like. If I mess up or stutter, there is no try again. The first thing that came out of my mouth is what happened. You're talking about reality television? That's the prime definition.
Q. Gina, RealityWanted: What advice do you have when people are applying for shows through RealityWanted?
A. Chris: I feel like whatever you decide to apply for, go full force. Put all of your focus and energy into the application. Don't rush it, take your time, and take it seriously. You can't be afraid to be yourself and say stupid things on an application or joke around. It's not a job. People wanna see goofiness and personality. They wanna see spark. You can't go into an application or casting process or trying to be respectful. You gotta be raw. You gotta be a raw person and just wow them any way you can. People go into that casting room doing backflips. Like, that's not gonna get you on tv, I'm sorry. You have to truly talk and be yourself. It's something you have to take your time with.
Q. Gina, RealityWanted: How did you get on the second show that you're currently filming?
A. Chris: I applied through RealityWanted! I sent an email and they sent one back, saying they liked my picture. Here's a little more advice I can give. With RealityWanted, when you apply,, there's a paragraph to type in. Words only go so far. Make a reel and copy and paste the link into the box and let these casting directors hear from you and see you because it makes the process that much quicker. I sent a reel and they were like, "Oh wow, you're perfect!" Making a video is like the second step of the process so if you give it to them first, that makes it easier.
Q. Gina, RealityWanted: What is the big goal?
A. Chris: Okay... I just feel like as a person, I would be most successful being myself as opposed to becoming an actor and trying to act like something I'm not. I feel like my personality and persona, I can become successful being myself. If that means landing a hit series reality show that I get crazy exposure and that turns into something else, maybe a spinoff, and then it gets me an agent who gets me in a movie, that's what I'm hoping for. I wanna be the next big tv personality. Even a hosting job. If I can become a host, that's a way I can really be myself. I have an ability to make someone like me. I just have that vibe about me and I wanna use that to be successful. If reality tv is the best way to do that, then that's what I'll do!
Visit Christopher's website and follow him @ChrisScali

(Image courtesy of Christopher Scali)

Follow Gina @ginascarpa