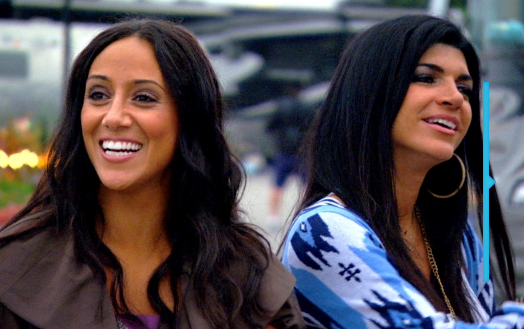 by Jessica Blackwell
Hurricane Irene slammed the Northeast as everyone prepared to hit the road to head to Napa. Because of the storm, they had to drive to Pittsburg to fly to Texas and then to California. Christopher joked that it was the Ashley trip because they were hitting all the cities she wanted to live. The housewives were worried about leaving their children behind during the storm of the century, but they packed up their sequined bikinis and hit the road anyway.
Before he left for the trip, Albie invited Lindsay to move into the bachelor pad, and while Christopher and Greg were were very welcoming to the idea of a lady joining their ranks, I'm not sure how Mama Caroline is going to feel about this. She's made it very clear that she wants Albie to focus on his career.
Everyone went on an insane shopping trip where they bought wayyy too much camping equipment. Jacqueline noticed that no one coordinated with one another and that they probably over bought. Uh yea.. After they finally got to their destination, they all piled onto the RVs for some driving and camping fun. On the first night they made camp, Melissa tried to bond with some of the neighbors, but that proved to be difficult with Teresa complaining about the area and commenting on how she would rather be in Malibu IN FRONT OF THEM.
Melissa and Teresa seemed to be getting along especially in the morning, being all touchy feely with each other's fake boobs. As a matter of fact everyone seemed to be a little touchy feely, with Joe Gorga whipping out Tarzan and Rich showing his morning wood to Greg while stroking his leg.
Teresa confronted Kathy about Kathy's comments that some of her mother's recipes found their way into Teresa's cookbook. I don't see what the big deal was considering that they come from the same family, and it's quite possible that their mothers shared recipes. Kathy explained what she meant by the comment, but Teresa still seemed annoyed, and brought it up to Melissa.
At first it seemed that the only way Melissa was going to continue getting along with Teresa was to agree with everything she said and watch out for any verbal land mines. But then Melissa waded through the land mine field and accomplished what no one else has done before: she gave Teresa (constructive) criticism without her going nuts! She told Teresa to examine herself and try to figure out why she has so many problems with everyone, and no one flipped a table! Amazing! Maybe that talk was the start of a new beginning for them.
Next week it looks like Jacqueline and Teresa address some of their drama...
The Real Housewives of New Jersey airs Sundays at 10/9c on Bravo.


(Image courtesy of Bravo)