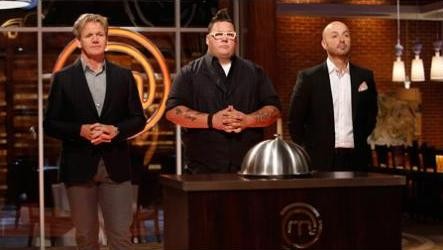 by Todd Betzold
If you pay attention to the previews of the next episode when MasterChef ends every week, this one may have had you very excited. The last eight homecooks that were sent home are back to fight for a chance to wear a MasterChef apron again! This is some intense stuff and they said the six remaining contestants would be the judges. There has to be a twist, because we all know they won't pick Ryan or Tali, which I don't mind at all!
The final six homecooks arrive in the MasterChef Kitchen and head to the front to meet the judges. They get the twist. None of them will be cooking today and all go up to the gallery. Joining them in the MasterChef Kitchen are the last eight homecooks they eliminated: Stacey, Josh, Tali, Tanya, Cowboy Mike, Anna, Scott and Ryan (ugh). Everyone got claps except Ryan. They are all back today and one of them will win an apron back into the competition.
They will create their own Mystery Box, as they each will go into the pantry and pick one ingredient. Ryan chooses portabella mushrooms. Scott picks a pork chop. Anna picks celery. Cowboy Mike picks condensed milk. Tanya picked white wine vinegar. Tali picked chocolate buttons. Josh chooses pomegranate. Stacey picked heavy cream. The two cooks that make the best dishes will battle it out in the Elimination Test to earn a spot back into the MasterChef Kitchen.
Ryan is still running his mouth and he is going to take everyone out down there and then take everyone out upstairs. Becky is worried about Josh maybe coming back and being one of her biggest competitors. Both Ryan and Josh say that they are shocked David Martinez is still in the competition.
Time is up and Josh is up first and he made Chocolate Mousse with Pomegranate Sauce and Candied Lemon Peel. Graham said it's not a work of art, but it tastes amazing. Chef Ramsay said it tastes absolutely delicious. Joe said it looks like a proper mousse and this is great. Anna is up next and she made Pan-Seared Pork Chop with Shaved Celery and Pomegranate Salad. Chef Ramsay said visually it is beautiful and may have sliced the pork when it was too hot.
Next is Tali, who made Chocolate Pot de Crème with Pomegranate Syrup and Celery Foam. Joe said it is very dense and very heavy. Scott is next and he made Stuffed Pork Chop with Pickled Celery and Pomegranate Sauce. Chef Ramsay said it is slightly undercooked, but flavor in the sear is good. Tanya is next and she made Grilled Pork Chop with Crispy Celery and Mushroom Ragu. Graham said the cook on the pork is really good, but he doesn't get celery fried.
Stacey is next and she made Mushroom Ravioli with Celery Cream and Roasted Pork Chop. Chef Ramsay said you are back with a vengeance and it is delicious and she has one hand on the apron. Cowboy Mike is next and he made Chocolate Flan with Lemon Zest and Sugar Glass. Graham said it is baked beautifully and it is really delicious and to see him cook this in one hour it is a testament to how far he has come. Chef Ramsay said it is delicious and very good. Ryan is the last one up and he made Pan-Seared Pork Chop with Mushroom Ragu and Pomegranate Gastrique. Chef Ramsay said it is delicious and a great seer and one of the best dishes he cooked here. Joe said that Frank is up there rolling his eyes, but he doesn't realize how good this is and he thinks he has something to show them.
The judges go back and discuss the eight dishes and decided which two will go head-to-head to enter back into the MasterChef Kitchen. They ask Tanya, Tali, Anna and Scott to step forward. They are great, but not good enough today and all are headed home again. Cowboy Mike and Ryan are asked to step forward and one of them is staying. Ryan is staying and Cowboy Mike is headed home again. It is no Stacey and Josh and one is staying and one is going home. Josh is staying and Stacey is headed home...damn you Ryan! Take Ryan down Josh!!!
The head-to-head challenge is a fruit tart. They can be creative as they want in their interpretation of this classic dish. However, the judges tonight will be the final six homecooks left in this competition. This is going to be tough. They will each taste a slice of their tart, but they will do it blindfolded so no one knows whose dish they are eating.
They are giving the ingredients to make a tart, but then have access to a limited pantry to make any kind of tart they want. Josh took Ryan out on a dessert before, will he do it again? I so hope so. Ryan gets his crust in and it looks great. Josh is struggling to get his crust in the oven and it is breaking and he is late getting it in the oven. He spent too much time cutting the fruit. Josh gets the crust done, but right now Ryan's tart is looking more visually appealing. I think Josh's looks and could be more appealing. Ryan's tart looks more plain, but done well.
They have to cut their tart into six pieces for the judges. They both slice their tart very well and the dishes head over to the six judges. Of course, the judges are going back and forth and have good and bad things to say about both. The judges put in their votes and now it is time to see who the winner is. The judges tell who the winner is and then it is revealed to the final six homecooks. The homecook coming back to the MasterChef Kitchen, with a 6-0 win, is...Josh! I am so happy and Ryan is such an ass!
MasterChef airs on Mondays and Tuesdays at 9/8c on FOX.
(Image courtesy of FOX)
Follow Todd @tbetzold