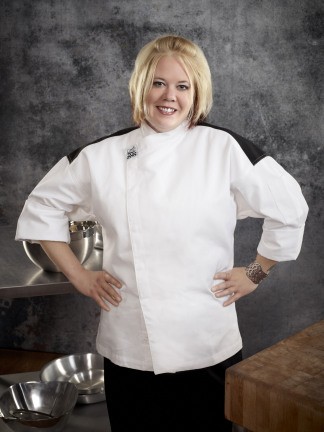 by Todd Betzold
Last night on Hell's Kitchen, the chefs were able to come up with their own menus and competed against each other in the Blue Team Menu versus the Red Team Menu. Both teams struggled with even their own menu and Chef Ramsay said there was no winner in Hell's Kitchen after a terrible dinner service. In the end, raw potatoes and a poor attitude were the downfall of Tiffany Johnson and Chef Ramsay sent her home. Today, we got an exclusive interview with Tiffany as she discussed her experiences in Hell's Kitchen, those raw potatoes and much more.
Q. Todd, RealityWanted: What made you decide to try out for Hell's Kitchen?
A. Tiffany: I had a lot of friends that were like, I think you can do it and you should probably do it. I think you would be good for the TV show, so I did.
Q. Todd, RealityWanted: On last night's episode, it was potatoes that brought you down. What was your issue with them during the dinner service?
A. Tiffany: I put the potatoes in the oven and I took them out and they weren't done, so I threw them back in and I threw them back in for about an hour, so I don't know if something was going on with the over or not, but they should have been done. I've never left potatoes in the oven as long as I had left those potatoes in there for.
Q. Todd, RealityWanted: During dinner service last night, both Chef Ramsay and Chef Andi said you didn't seem to even care to be there. What were your thoughts about them saying that to you?
A. Tiffany: There was a certain point, while being there, that I didn't really care to be there anymore. It's that I don't care about food, it's just that I was fed up with the whole situation of it all.
Q. Todd, RealityWanted: What was it like working in Hell's Kitchen and under Chef Ramsay and all the chaos/drama with the other chefs and teams? What was that experience like for you?
A. Tiffany: It was fun. The drama, that kind of sucks. They throw people together that they think will probably cause some drama. A lot of our fights we all got over it pretty quickly. When you live in small quarters with everybody, you get to know each other pretty well and what pushes each other's buttons. At the end of the day, we're all friends still.
Q. Todd, RealityWanted: What's the biggest thing you are going to be taking away from this whole Hell's Kitchen experience?
A. Tiffany: I've taken a lot since being on the show. I've calmed down a lot more in the kitchen. I never really used to yell anyway, because I've been at the same job for three years and everybody that I work with we all know and we're all friends. Every once in a while something makes me mad, but I try to just walk in the cooler and yell it off in there instead of yell at somebody.
Q. Todd, RealityWanted: Now that you're off the show, are you rooting for anyone to win this season?
A. Tiffany: There are definitely a couple people I would like to see win. I would think that Justin, Christina and Dana are the top three frontrunners.
Q. Todd, RealityWanted: Where are you cooking now and what can readers expect next from you?
A. Tiffany: I'm cooking in a restaurant. I can't really disclose where I'm working, but I've been at the same job for a while. Still doing what I'm doing. I live in Vermont and I like it here. It's a good job to have where I'm at.
Hell's Kitchen airs Mondays and Tuesdays at 8/7c on FOX.
(Image courtesy of FOX)
Follow Todd @tbetzold