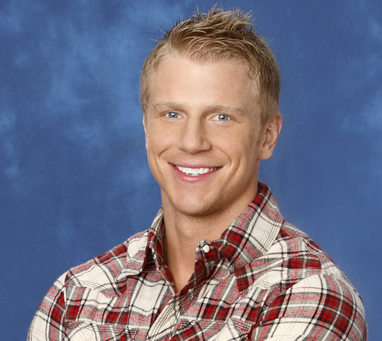 by Gina Scarpa
When you're the one living in the moment on a reality show, it can be hard to see what's obvious to viewers sitting at home. Though Emily and Sean had good chemistry on The Bachelorette, it was clear that her bonds were stronger with Arie and Jef. After a series of romantic dates in Curacao, Emily blindsided Sean at the rose ceremony and ended her relationship with him. Today, Sean talked to RealityWanted and reporters in a conference call about his heartbreak and how he was able to move forward.
Q. Gina, RealityWanted: What was the most surprising thing to you, watching the episodes back?
A. Sean: Honestly, I don't think there's been any big shocks or surprises. The one thing that happened was watching her relationships with Jef and Arie have been pretty therapeutic for me. It was tough to go through that stuff and ultimately, I had my heart broken. But to go back and watch her interact with these other guys was healthy for me in terms of getting over the relationship.
Q. Gina, RealityWanted: Emily had some questions in Curacao following her hometown date with you, particularly about the fact that you've treated exes like buddies. Do you think that played a part in her sending you home?
A. Sean: No, I don't think it had anything to do with that. I think I clarified that on our date in Curacao. I think my family was talking about one particular girlfriend. I shouldn't have let that relationship last as long as I did, although I cared for her very much. I knew I wasn't going to end up with her.
Q. You said it was therapeutic to watch her relationship with the other guys. Can you elaborate on that?
A. Sean: Yeah, sure. After I left, all I knew was what Emily and I had together. I had no idea what she had with Jef and Arie because frankly, I didn't ask them and I didn't wanna know. To see her have such strong feelings for two other guys, it helped me. I might have built it up a little bit more than it was in my head. At the end of the day, I think her relationships with them were just as strong if not stronger. It helped me move on a bit quicker.
Q. Who do you think she'll pick?
A. Sean: I think it's anybody's guesses. They're similar in a lot of ways but they've different as well. They're both great guys. There's no way I could pick! I don't know.
Q. Looking back, were you relieved that you weren't getting engaged and about to be a stepfather or was that hard to get over?
A. Sean: It was pretty difficult to get over. That's the first time I ever experienced heartbreak. I was prepared to be stepfather. Now that we've had time and distance, I think she ultimately made the right decision. She's not the one I'm supposed to be with. In a way, I'm thankful that it ended where it did for me.
Q. Would you consider being The Bachelor?
A. Sean: Funny you ask! I've been asked that a lot lately. It would be a difficult decision, only because it was so emotionally taxing. I don't know if I could go through that. But the process works and I believe in the process. It's just a little difficult to think about right now but they'd have to ask first! I don't even know if I'd have to make that decision.
Q. Emily kept saying you were the "perfect guy" and she couldn't find any faults in you. When she sent you home, did you believe her when she said that?
A. Sean: I believe that. I'm not saying I'm perfect but I believe that she couldn't find any faults with me. Ultimately, I think it came down to connection and maybe her connection was strong with Jef and Arie. I think in her heart, she realized Jef or Arie might be the better choice.
Q. She said she was protective because you didn't say "I love you". Should you have said it sooner?
A. Sean: That's an interesting question and ultimately, Emily would be the best person to ask. Regardless of whether I said it earlier or later, she knew how I felt. She knew I was crazy about her and that I cared for her very much. Ultimately, I don't think that played a big factor in it.
Q. What is one thing about Jef or Arie that makes you think Emily is falling for them?
A. Sean: I think Jef is his own person, which is an attractive quality to most women. He's really funny and fun to be around. Arie is his own person too. He's got that European flair to him. He's not the macho American guy like we're used to seeing but he's got a great sense of humor. I think the common thing is that they're funny guys and easy to be around.
Q. Which guy do you think seems less prepared to get married?
A. Sean: I think they're both equally prepared, honestly. They're both at stages in their lives where they can take on being a father and would be a great husband as well. I was expecting guys to open up and say how they felt when cameras weren't on us and they did, but they always said how prepared they were. They never said anything negatively towards being a father.
Q. You never shared details about your dates with Emily. Why?
A. Sean: I knew for my own personal sanity, it was best to pretend like she's not dating other guys. I felt like it wasn't healthy for me to share the special bond that Emily and I had. That's something I cherished and valued, and I wanted that to stay between me and Emily. Some other guys, like Jef and Arie, were very open with each other. For me, I wanted to go about it a different way.
Q. Is there anything you want to say to Emily?
A. Sean: I wish nothing but the best for her and the feelings I had in Curacao were real. I don't take those back. I know she had to do what was best for her. I understand that and I know it was best for me also. I think all of my questions have been answered.

The Bachelorette airs Mondays at 8/7c on ABC.
(Image courtesy of ABC)

Follow Gina @ginascarpa