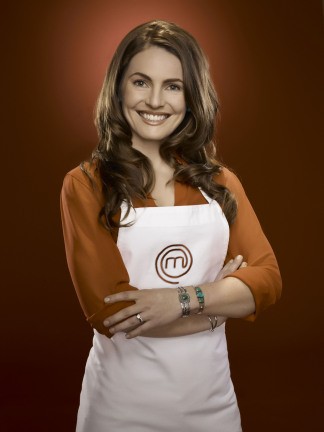 by Todd Betzold
Anna Rossi started her journey on MasterChef when she auditioned with her husband. It ended last night when her team struggled in their food truck on the Team Challenge and Anna fell short on making tortellini in the Pressure Test. Today, we got an exclusive interview with Anna as she talked about her experiences on MasterChef, auditioning with and competing against her husband and much more.
Q. Todd, RealityWanted: What made you want to try out for MasterChef?
A. Anna: I love to cook. I love Gordon Ramsay. I'm a homecook and fit the description in the audition announcement, but it was funny because I auditioned with my husband and we had a free Saturday and I thought if I'm going to get his buy-in, I better sign him up too. Cooking is something that we share and love, so I basically just told him eight days and get ready your signature dish because we are going to this audition. I think I might think twice next time I sign us up for something because neither of us never expected us to get that far.
Q. Todd, RealityWanted: What was it like competing against your husband during the auditions and eventually it getting down to either of you two making the Top 18?
A. Anna: It was so difficult and it was so different. At home, he is my better half in the kitchen and it's really a collaborative process whether we are entertaining or serving family or what have you. Then to go into competition mode was really different, but also other contestants would ask us it must be nice to have your spouse out here to support you. For example, when we had the time for the audition dish, not only was I freaking out and worried about myself and getting everything I needed on the cart, but I also care about my husband and was worried that he would forget something. I wanted him to get that apron, so it was twice the emotion for everything.
Q. Todd, RealityWanted: Your team got off to a late start on the Team Challenge and didn't have burgers ready when service started. Do you think your team tried to take on too much at first with the Burger Duo?
A. Anna: I think bottom line, as a leader I learned that verbal check-ins don't always work for everyone. It was my responsibility that we got off to that late start and once we got up and running, things were moving out the window and we were turning and churning great dishes. The sliders were amazing, Tanya whipped up an incredible barbeque sauce, the blue cheese, the coleslaw. It was fantastic. It was a good lesson in leadership and the food truck is all about delivering consistently, high-volume good food.
Q. Todd, RealityWanted: What were you thinking when it was you and Tanya in the bottom two?
A. Anna: I knew it was going to be me. Basically, raw was the three-letter word out of Gordon Ramsay's mouth and I knew. The water had gone off on my stove. I can't even boil water (laughs). My meat was all cured meat, so there were no health risks in serving the raw tortellini. I knew they were undercooked and I felt so bad as Tanya was balling her eyes out next to me. I wanted to be like, don't worry, it's going to be me. I love that girl to death and she's such a sweet, compassionate person. No one wants to be standing up there under that circumstance.
Q. Todd, RealityWanted: What was your favorite challenge or test this season?
A. Anna: Each one was definitely special for its own reason. The Molten Lava Cake Pressure Test was a high-point in my life. It's one of my favorite desserts and to have the luck to have that come up and be able to present that to the three judges. To have Joe Bastianich say he would serve that in one of his restaurants was really a lifetime accomplishment for me. It was just a great, high moment.
Q. Todd, RealityWanted: What was it like working with all the time constraints of the challenges and food ingredients given to you?
A. Anna: It was so different from my kitchen and I had been training, like I had been training for the London Olympics, for months when I knew I was still in consideration. I would make up challenges for myself. Try different proteins and I would always have my microwave timer for 60 minutes because that is the standard time for most of the challenges. Sixty minutes is not a lot of time when you have Gordon telling you his two cents and pots and pans flying. It's a lot different than listening to my favorite radio station with a glass of wine in a relaxing, quiet environment.
Q. Todd, RealityWanted: Now that you're off the show, is there anyone you're rooting for?
A. Anna: I made friends for life on that show. I have so much admiration for everyone. Becky is an incredible. She has a wonderful arsenal of incredible recipes in her head and is a really strong player. Frank is the one I really admire for his intuition and that Italian influence in his cooking. Christine always blows me away with her organization and thought process. Tanya, Mike...it's just so difficult to decide.
Q. Todd, RealityWanted: What's the biggest thing you are going to take away from this whole MasterChef experience?
A. Anna: There are so many things, but I think the importance of time management and the permission to get outside of cookbooks. Those gentlemen really gave me a confidence in my palate and my technique. I feel bolder to come out of my shell with my flavor profile and style. I'm just so indebted and grateful for that boost in confidence.
Q. Todd, RealityWanted: Anything to add?
A. Anna: If anyone wants to see my recipes, they are on BraveApron.com.
MasterChef airs Mondays and Tuesdays at 9/8c on FOX.
(Image courtesy of FOX)
Follow Todd @tbetzold