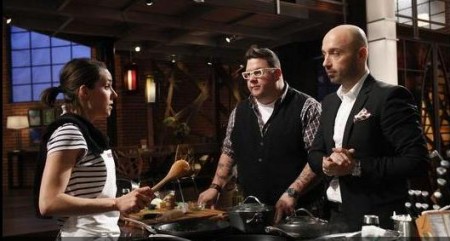 by Todd Betzold
After two quick eliminations last week on MasterChef, we are down to the Top 16 and tonight we have our first team challenge, as the homecooks head out to cook for some hungry servicemen and women.
The Top 16 head out to face their first Team Challenge and in fly the helicopters, which belong to U.S. Marines, and the homecooks will be cooking for them. The challenge today will be to send back 201 Marines with full stomachs. Each Marine will eat an entrée from the Red Team and an entrée from the Blue Team. The captains will be Frank (Blue) and David (Red). David chooses Becky, Josh, Mike, Helene, Ryan, Anna and Monti. Frank chooses Felix, Scott, Stacy, Tali, Tanya, Michael and Christine.
The teams have two hours to make their meals, which must include one protein, one starch and one vegetable. Frank rounds up Team Blue he comes up with the menu for them, which is an Italian theme. Felix wants bbq chicken and All-American, but she goes with Frank because he is team captain. The red Team meanwhile goes with an American classic, a pork chop. Joe said it is a high risk to cook pork chops in that timeframe and the Blue Team the pasta the Marines won't recognize.
For the Blue Team, Michael throws the mushrooms on the grill with no seasoning or butter and Joe calls him out on it. Frank takes Michael off the grill and puts Tali on instead. Meanwhile, the Red Team is out of control because they have no leadership. Becky decides to take over and starts yelling out orders. The Marines start arriving and the teams start hustling to finish up. Before the time is up, Chef Ramsay notices the pork is raw and the Red Team must salvage the pork before serving the Marines.
Time for service: for the Red Team, they serve BBQ Pork Chops with Cole Slaw and Potatoes. For the Blue Team, they serve Grilled Chicken with Pasta Salad. Christine is put in charge of handing out the chicken, which she isn't confident doing because she has to search for the empty spot to put it on the tray. Meanwhile, the Red Team is running out of food and only has coleslaw ready to serve. As Joe is out asking how the Marines are enjoying the meal, he notices a raw pork chop and heads start flying. David is not looking good right now for the Red Team.
David falls under the pressure for the Red Team, so Monti takes over the food line and Becky takes over the grill. All the Marines have been served and it is time for them to vote...who will be the winner tonight? Ryan tells Monti to show a nipple to gain some votes, he is such a jackass! The winning entrée belongs to the Red Team and David wins despite his raw pork chops. The Blue Team will now face the first Pressure Test, where at least one person will go home.
Time for the first Pressure Test, as the Blue Team arrives to the MasterChef Kitchen to see who will be put to the test. Everyone will be participating in the Pressure Test, but one of them will be saved by Frank, the team captain. Frank first chooses Felix because she wanted BBQ Chicken and beans, but she turns it down and says she wants to cook. He then chooses Scott, who turns him down, and then Stacey, who unwillingly accepts. Accept them people, this is a free ride!
The dish tonight for the Pressure Test is Apple Pie! At their stations, there are the essential ingredients to make an apple pie plus additional ingredients to make their pie stand out. They will be judged tonight on their filling, their crust and overall baking technique. They have an hour and 15 minutes to bake.
Christine is nervous about the baking and not being able to see the color of crust. She feels at a disadvantage and thinks she is going home tonight. Scott's dough is crumbling up and he is struggling. Michael is putting a layer of cheddar cheese on top of his pie...what? Christine ran out flour and had to borrow some and got her pie in late. Scott put his pie in late and Chef Ramsay said if he gets a free pass ever again he better take it.
Time runs out and it is time to taste the pies. Frank is up first and Chef Ramsay says it looks beautiful and the pastry is crumbling and it tastes absolutely delicious. Graham says the crusty is extremely flaky and the apples are melt in your mouth. Joe says it's got a lot of finesse. Tanya is up next and Joe says it is a pasty white crust and undercooked apples. Chef Ramsay says it is a soggy mess.
Tali is up next and Joe says the crust looks cooked, but no one home in the middle. Felix is next and Graham says it is not as sweet as I thought it would be...the outside is so beautiful, but the inside does not equal it. Michael is next and Joe says it is watery and the cheese flavor is completely dry and crusty and no bottom crust. Chef Ramsay says it is raw and a mess. Scott is next and Chef Ramsay asks what it is? It look terrible. Chef Ramsay says the apples are delicious, but you've screwed the pastry. Graham says the filling is great. Christine is next and Chef Ramsay says visually it looks stunning and to stop doubting herself...let my tears begin! I love her! He says the flavor is amazing.
They are all called down to the front to see who is sent home tonight. Frank, Christine, Felix and Tali step forward...they are all safe. That leaves us with Michael, Tanya and Scott (who could be saved already if he didn't turn it down). Tanya steps forward and she is safe. Michael or Scott? I think it will be Michael, he screwed up too much. The person going home tonight is Michael, so Scott is safe.
MasterChef airs on Mondays and Tuesdays at 9/8c on FOX.
(Image courtesy of FOX)
Follow Todd @tbetzold