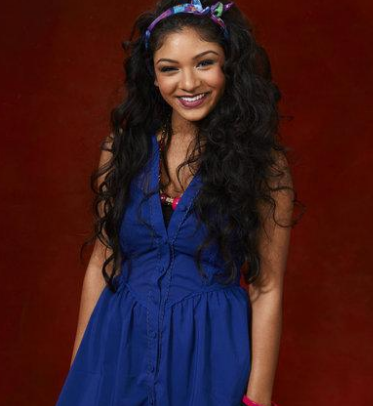 by Gina Scarpa
Mathai's unique sound got the attention of the judges during the blind auditions of The Voice. Her performance of "Rumor Has It" had Blake, Cee-Lo, and Adam turning their chairs around for a shot to have her on their teams. She ultimately went with Adam, who also voted her through the battle round, and America saved her after her live performance. Today, we talked to Mathai in an exclusive interview to discuss her family's take on her going into showbiz, her song choices, and what kind of artist she sees herself as.
Q. Gina, RealityWanted: What was your singing and performing experience before auditioning for The Voice?
A. Mathai: Before The Voice, I had just recently decided that I needed to be a singer, an artist, and I auditioned for The Glee Project. Me and Pip made it to the Top 24 of that show but we didn't make it past that and I'm glad we didn't because it just wasn't for us. I'm not really an actor and I don't know. I think this show is just perfect for everything we wanted to be.
Q. Gina, RealityWanted: What did your family think about your interest in being a singer?
A. Mathai: My parents were totally not okay with it at first. They let me do it for a bit because they thought I'd get it out of my system and come back to school. They never had to force me to do homework! I was such a nerd and I like academic stuff. For me to say I wanted to be in the music industry was just the wildest thing. They caught on and they're okay with it now. I'm sure they prefer me to go back to school but that's not what I'm supposed to do. I really respect them.
Q. Gina, RealityWanted: You made a gusty choice for the blind audition, singing Adele. Were you worried about being compared to the original version? That does happen a lot with songs like that.
A. Mathai: Yeah, I mean, I was a little bit but not really because I wasn't really expecting anything out of this. I was just kind of doing it to get it out of my system. My mom wasn't even going to let me audition for this. I was still 18 at the time and she said, "Whatever, do it," and so I did. I wasn't even really thinking about that honestly! I thought I was going to sing and leave.
Q. Gina, RealityWanted: You had three judges turn around for you. That must have been a great feeling!
A. Mathai: Oh man! It didn't even feel real. I didn't even feel like it was a real moment. I couldn't grasp the fact that this was happening to me. It didn't hit me until a few days later. I didn't realize at the time how big this thing was!
Q. Gina, RealityWanted: What made you choose Adam?
A. Mathai: You know, it was a lot of impulse, to be honest. But I could also see his dedication and his passion and I felt similarities. I felt I could relate to him on a level that I couldn't with the others. It might be his youthfulness or his drive, I don't know. There was something that I felt connected to.
Q. Gina, RealityWanted: What was your feeling about the battle round? They seem kind of awkward and stressful...
A. Mathai: Oh man I mean, ditto. Awkward and stressful are perfect words to describe battle rounds. It's so unnecessary to be head to head with another person. We're still battling our team members but it's not a head on competition. It's not really bad anymore. It was awkward and I'm glad it's over. I'm glad me and my battle partner still have a good relationship.
Q. Gina, RealityWanted: I love that you sang "Ordinary People" for your first live performance. What made you choose it?
A. Mathai: I love that song! I fell in love with that song back when battle rounds were being filmed. I was really close with Chris Cauley who battled Tony Lucca. We were just jamming in the hotel one night and he was like, "Do you know this song?" and I wasn't that familiar with it. We sang it and I realized I loved that song. I really wanted to do it for the live shows. I sent Adam a cover of me doing it and he was all for it. I was so glad because it showed off who I am as an artist. It wasn't anything flashy but I think it was really important.
Q. Gina, RealityWanted: What kind of artist do you see yourself as and will you be taking risks as the live shows continue?
A. Mathai: Oh I'm sure I'll take risks and chances! Even to sing that song was a risk. It's not easy to sing at all. I think as an artist, I'm still discovering what genre I fit into. I'm thinking more indie pop at this moment. My voice definitely has its jazzy intonations but it's going to have a more contemporary vibe to it. We'll see! Not too long after this season is over, I'll probably be coming out with something.
Q. Gina, RealityWanted: What do you want to say to your fans?
A. Mathai: I just wanna say that I literally have one of the sweetest fan bases ever. Everyone who supports me is so encouraging. I wanna say thank you for voting! Make sure you watch The Voice not just tonight but next week when I'll be on. It's gonna be crazy and I hope you love it!!

The Voice airs Mondays at 8/7c on NBC.
(Image courtesy of NBC)

Follow Gina @ginascarpa and "Like" her on Facebook!