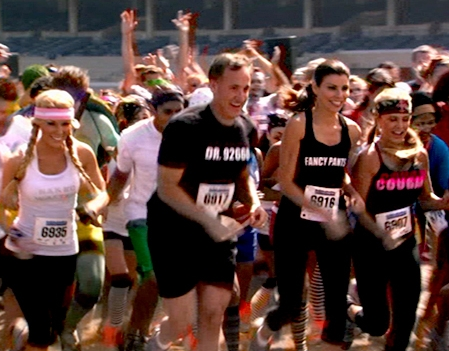 by Gina Scarpa
The Real Housewives of Orange County may have money, but not like Heather and Terry do! They kick off this week's episode with a wardrobe makeover that costs tens of thousands of dollars - and it doesn't even seem Terry is getting that much for it! In Heather's defense though, anything is better than scrubs and crocs.
Tamra has found that working out, especially with Eddie it seems, has helped her through her divorce. In fact, she's even thinking of opening her own fitness studio! To have a little fun with her friends, she invites Heather, Gretchen, and their significant others to participate in a Mud Run for charity. It's hard to imagine that either woman would want to get down and dirty but they both agree to sign up.
Brianna calls Vicki with some amazing and exciting news - she's cancer free. She had 35 tumors that spread to her lymph nodes and she ended up coming out okay. So great to hear!
Alexis is still recovering from "sinus surgery" as Tamra calls it (air quotes and all) and is upset that it took Gretchen five days to come over and visit. How dare she?! While visiting, Gretchen is treated to pictures of all the things the doctor removed from Alexis's nose. Yeah, I would've avoided going over there too.
The Mud Run is a lot of fun for the three couples in attendance until Gretchen sprains her ankle while fooling around. This does not bode well for her upcoming Pussycat Dolls rehearsal. Slade carries her off while the rest solider on and then Eddie breaks his finger. This run is dangerous! Afterwards, everyone meets up, in one piece, where Slade gets competitive with Eddie about bicycling. I have a hard time believing he was part of the Tour de France in the 90s but stranger things have happened.
Brooks comes to town and takes Vicki out on a date, where he declares his love for her. She doesn't say it back and gets uncomfortable when he tries to show her affection. So this guy gives her physical, daily affirmation of his love, tells her how much he cares for her, and tries to show her, and what is he getting back? Talk of her love tank and daddy issues. Yikes.
Tamra finally signs her divorce papers but it wasn't as celebratory as she had originally thought. With one signature, she finally ends a fifteen year relationship and that, understandably, brings up a lot of emotion. At 43, she feels like her life is just now beginning and she understands who she is.
Oh, and Alexis got her cast off and honestly... the nose looks good!

The Real Housewives of Orange County airs Tuesdays at 9/8c on Bravo.
(Image courtesy of Bravo)

Follow Gina @ginascarpa and "Like" her on Facebook!