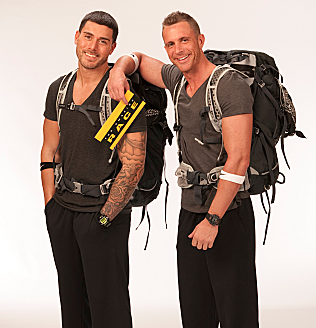 by Gina Scarpa
New Yorkers Joey and Danny got off to a rough start this season on The Amazing Race, narrowly escaping elimination in the first leg. They recovered nicely and, by the third leg, established themselves as contenders to take home the million dollar prize waiting at the finish line. This week, they took a big gamble and lost, going up against Dave and Rachel for a Fast Forward. The couple finished first, leaving Joey and Danny too far behind the rest of the teams to catch up. Today, we talked to the guys in an exclusive interview about their experiences on the race and whether or not we'll see more of them.
Q. Gina, RealityWanted: Whose idea was it to try out for The Amazing Race?
A. Joey: We've always seen the show and commercials. It's a popular show. The next thing we know, we see a casting for it and someone hit us up and said they were looking for a Jersey Shore type and we fit that to a "T". We wanted to go in with the approach that we don't wanna be those kids that are known for partying and getting with a million girls. There's another side to that whole thing. We have personalities, we can work together, and we can make people laugh.
Q. Gina, RealityWanted: You guys got off to a rough start and definitely caught a break with Misa and Maiya's blunder of not seeing Phil on the mat in Argetina. How lucky did you feel to be able to have made it past that first leg?
A. Danny: That wasn't edited one bit. That was really down to the final seconds on that first leg. We treated it like we had an extra life. We wanted to take the most advantage of it that we could. We were feeling very blessed to be in the race.
A. Joey: We looked at each other and said, "We gotta pay attention to everything, we gotta work hard, because we got a second chance." People were probably thinking we were going to go out next and we made it six legs.
Q. Gina, RealityWanted: You recovered nicely on the third leg in Paraguay and things really started to turn around for you. What changed for you?
A. Danny: This was my first time out of the United States, period. We had a tough time just getting out of the United States. We got lost on our way to LAX. This whole experience was new to both of us, working together in another country. We started getting the hang of it, learning dialects, asking for directions, and getting good at the game.
A. Joey: We made improvements and went from 10th to 8th to 2nd. On the first leg, we didn't really know what we were doing. Each leg, we started to progress a little more. It's a learning experience. We really believe if we didn't do the Fast Forward, or won it, we would've been top three and could've won the whole thing.
Q. Gina, RealityWanted: Why did you guys go for the Fast Forward, knowing Dave and Rachel were going to try for it as well?
A. Danny: Here's the thing. We were actually the first team out of the temple and we were the first one in the cab. Our cab driver... I don't know if he didn't know where it was and he was going kind of slow. I didn't see any other teams and then out of nowhere, Dave and Rachel's cab comes flying by us. I said, "There they go! Why don't you just follow them because they look like they know where they're going?" They actually got there a minute or two before us and that kind of made the difference. All I had to do was pick up one more piece.
A. Joey: It wasn't even anything that we spoke about before. The minute we saw the Fast Forward, we just ran outta there and kind of processed it on the way. Once we saw they got there before us, we started trucking and going as hard as we could. We were kind of devastated. We ran the best that we could after that it seemed
Q. Gina, RealityWanted: How far behind the pack were you once the Fast Forward was complete?
A. Danny: After the Fast Forward was done, we had to get back into that cab. He spoke no English at all. All the other teams were together and those drivers were following each other. Our cab driver was all alone. When we had to do the helicopter thing, it took us so long to get there because he had no idea where it was. Maybe we should've stayed with the pack knowing that our driver had no clue.
A. Joey: Going back to what Danny said about staying with the pack, if we did that, we could've beat out the other teams but we did take that risk. We go back in our head a million times and we say, "We could've won and we would've won cars!" To have won cars would've been ten times better.
A. Danny: It's crazy to anyone who has watched the show. They keep bringing up the littlest thing can ruin your game, like a cab driver. Like with the snowboarders last season, their cab driver was all alone.
Q. Gina, RealityWanted: How did you handle your elimination from the race?
A. Joey: We kinda had a feeling that it was over as we ran up to that mat. We were hoping we would be lucky for a non-elimination but obviously it wasn't. Every day, me and Danny talk and we're like, "Why did we do that? We could've won this race!" It was so neck and neck with the Fast Forward. Watching it with my family, they were so nervous.
A. Danny: We're not gonna dwell on the past and so be it. We're hoping that CBS is watching our Twitters. I think a lot of people grew to really like us and thought we were likeable.
A. Joey: We definitely feel like if there's another Unfinished Business or All Stars season that we definitely wanna be brought back. We wanna win the million and if we see a Fast Forward, we'll step on it and throw it out.

The Amazing Race airs Sundays at 8/7c on CBS.
(Image courtesy of CBS)

Follow Gina @ginascarpa and "Like" her on Facebook!