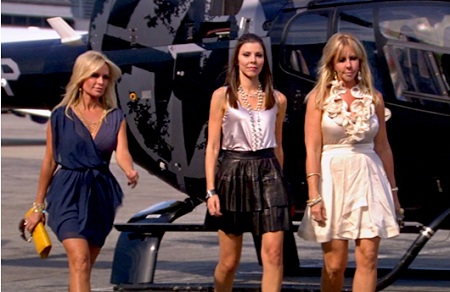 by Danae Young
This week on The Real Housewives of Orange County, Briana and Alexis both get out of their surgeries while Heather is busy putting plans together for a restaurant.
Tamra went to visit the doctor that put her breast implants in because she wants to have them completely removed. She is finally confident enough in who she is that she doesn't need fake boobs to define who she is. Third set of boobs, third man, third time's a charm! Nicely put Tamra!
Alexis got her nose surgery done so she can breathe better…and also get the bump on her nose fixed. The doctor said that was one of the worst cases he has seen in awhile. When she woke up from surgery her eyes were swollen shut from when the doctor had to break her nose during surgery. She was clearly in a lot of pain. Poor girl! Luckily she had a nurse at home to take care of her during her recovery and even her husband helped out while she was healing.
Mike, Vicki's son, showed up at the hospital to check on Briana. The doctor took out all of the lymph nodes in her neck and said he wouldn't be surprised if it came back as cancer. Naturally Vicki was freaking out and couldn't stop crying. Her only daughter could have cancer.
Gretchen and Slade went to Sir to meet with Robin Antin of The Pussycat Dolls and choreographer Mikey Minden. She has to train and practice for when she performs in Las Vegas at The Pussycat Lounge. She got to watch some girls rehearse a routine and that made her totally nervous.
Heather invited Tamra and Vicki to join her in a helicopter ride to Los Angeles where they met with Heather's close girlfriends and soon-to-be business partners Jackie and Jaye. Heather and her close friends want to open a restaurant together in Orange County because they all agree that there are no good restaurants there. The women met with Peter Garland at the restaurant he owns, Porta Via, while they were in LA. He gave them a bunch of advice on the ins and outs of starting and running a restaurant. Opening a restaurant is definitely overwhelming. Heather and her pals might be in over their heads.
Watch all new episodes of The Real Housewives of Orange County Tuesdays at 9/8c on Bravo.
(Image courtesy of Bravo)
Follow Danae @danaeyoung