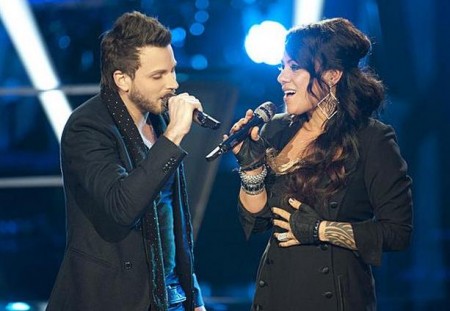 by Todd Betzold
The gloves are off and the songs are well-rehearsed as the singers on The Voice started battling each other last night with the winner moving on to the live shows. We had some great battles last night with Tony Lucca winning for Team Adam, Chris Mann and Jesse Campbell winning for Team Christina, RaeLynn and Jordis Unga winning for Team Blake and Cheesa for Team Cee Lo. Tony Lucca couldn't make it, so Brian Fuente filled in for him as he and the rest of the winners got together today for a conference call to talk about their journey so far on The Voice.
Q. I know you don't get a say in the choices last night, but were any of you particularly surprised by who you were paired with?
A. Cheesa: A little bit...I was preparing myself to be with Wade or Jamar because I feel like they are more of my style, but it was really nerve-wracking...Angie's a beast. When I first watched her audition I wasn't expecting such a rock star...she owned the stage...I was definitely intimated and scared...she's a beast...that's all I can say.
Jesse: I wasn't actually expecting Anthony, for whatever reason, I didn't think they would put two Christian background performers together and when they did I was like, oh well, it is what it is...let's have fun with it.
Chris: I actually thought I was going to get Anthony, who Jesse ended up battling. Being the only classical on the show, I thought they were going to put me with Moses Stone, the rapper, surely because they didn't know what else to do with us.
RaeLynn: I actually wasn't that shocked because Blake would always joke with me and Adley, because she was from Oklahoma and I was from Texas, so he always liked to say something about it. So, in the back of my head thought Adley, but I also thought it might be Jordan Ranger because he is my age. So, I was thinking Adley or Jordan, so it wasn't too much of a surprise.
Brian: Looking back, for Jordis and I to be paired together, we were both surprised at that moment, but looking back it does kind of make sense...we were the two rockers of the group. Like I said, we were both shocked, but it kinda makes sense.
Jordis: It was funny because Brian and I have become friends throughout this competition, so I think as obvious as our pairing was, I think we were both hoping our names wouldn't be called together...we didn't want to battle each other...nobody wants to battle each other...it was an obvious pairing.
Q. I still think you are one of the biggest talents on the show, but like you said, obviously there is room to grow from that battle round performance. Do you think the problem was with the platform or with the song or where do you think you faltered?
A. Jordis: I really had a tough time with that song...it's beautifully written, I love Alanis. The style of that song was difficult for me and Brian and I had key issues. There were male vocalists...there were female vocalists...there was a give and take with what we could do. That getting paired with nerves of knowing one of is going home. As musicians, we do things productively together...we learn from each other. I felt like the end-point to this performance was a dark place...I really didn't want to see the end of it. I'm really, really, really glad it's over.
Q. For those who are not used to singing duets, what did you learn from singing with your partner in the battle rounds?
A. Jesse: Singing and working with Anthony, it was a joy because Anthony is such a great person and it made it much more challenging to be in this part of the competition, like Jordis said earlier, we don't do what we do to battle, but we do it because we love it. Anthony's poise and his personality still came out, regardless we were practicing or on stage,
Q. Do you anticipate any issues with the rest of competition with your classical training and connecting with the emotions of the song.?
A. Chris: Just because you are classically trained doesn't mean you are void of emotions...you are connecting with words. If you are singing a foreign language, it is your job to make sure the audience knows what you are talking about when they don't even understand the words.
Q. What was it like to adapt to the battle format with two singer and how do you feel now that it's behind you?
A. Jordis: I'm so happy it's over...it's nerve-wracking. I mean, the battles were really scary. We all worked so hard as a team and knowing that half of us will be going home...it's scary. I don't even know if I did adapt to it, and I am so thankful for that. I am so ready to move on past this. I'm taking a deep breath and ready to move on.
Q. How did it make you feel with Blake's disappointment of your performance and did he talk to you afterwards?
A. Brian: I was pretty shocked by all the judges...the song was a difficult one to tackle, especially for me being a male. I've never heard of any male artist attempt that song. I did see Blake afterwards and he said I believe in you, let's keep I touch. He's an awesome guy and we'll be speaking soon.
The Voice airs Mondays at 8/7c on NBC.
(Image courtesy of NBC)
Follow Todd @tbetzold