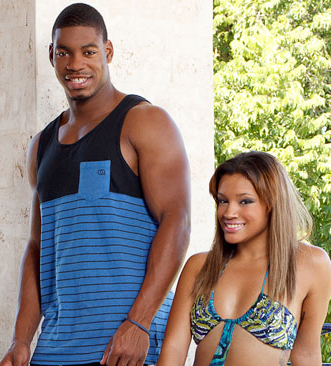 by Gina Scarpa
Leroy didn't find it unfortunate that Naomi was his partner this season on The Challenge: Battle of the Exes because she's not athletic. He found it unfortunate because it prevented him from spending time with other women in the house. The pair ended up in The Dome for elimination twice. The first time, they sent home powerhouse Wes and his partner Mandi. The second time, they weren't so lucky and lost to Ty and Emily. Today, we talked to Leroy in an exclusive interview about the drama, his big moment in the game, and whether not he'll compete again on The Challenge.
Q. Gina, RealityWanted: When I interviewed TJ Lavin before the premiere of Battle of the Exes, he said that if he could have any partner, he would choose you.
A. Leroy: Really? Actually, while we were there... when I got sent home, he had some nice words for me. That's surprising that he said that but I definitely was a good partner. My partner put me through hell, man.
Q. Gina, RealityWanted: Speaking of, how did you feel about being paired with Naomi as exes?
A. Leroy: When I got to Exes, I was saying to myself, "I probably should've hooked up with Mike! Then, WE would've been partners!" I probably would've gotten some publicity for that. Everybody's doing things for money these days. No, but I was worried about how well she would do. She's really not the type... she's not athletic; she doesn't get down with stuff like that. I knew going in, how jealous she was when it came to other girls.
Q. Gina, RealityWanted: Naomi didn't want you hooking up with anyone in the house. Was there someone you were hoping to hook up with?
A. Leroy: Probably Rachel! And Rachel's a lesbian! I'm in love with Rachel! She has a girlfriend. I'm very attracted to her, she has a bangin' body, and we shared a room. It was cool for me... when we first get there, everybody races to the rooms. I didn't wanna share a room with guys.
Q. Gina, RealityWanted: Rookies are usually targeted first but Leroy, do you feel like you proved something during Rivals that would have kept you away from being voted in?
A. Leroy: With the whole Rivals challenge, I was disappointed, not just about losing in the finals but I felt like I didn't get a chance to prove myself. Yeah, I climbed a rope pretty fast but I didn't get a chance to put my hands on somebody, the way I did with Wes. My epic moment was definitely sending Wes home and shutting him out. I don't think I'm looked at like a rookie anymore. I think, not that they're scared of me but a lot of times, you want people to stick around that you like. I feel if me and Naomi never would've come in last place, we could've made it to the finals. We were the weakest time, which is fine with me!
Q. Gina, RealityWanted: It seems like every challenge involves heights and water. Which one was the toughest?
A. Leroy: The toughest one had to definitely be the second challenge, hooking ourselves up and swinging across the beams. I couldn't get Naomi to calm down. You have 15 minutes to get across all the beams so a lot of people weren't even moving. They were just wasting time and for me, I was like, "We need to try to make a move!" It was tough but it wasn't that hard.
Q. Gina, RealityWanted: What was your biggest issue in The Dome this week? Looking back, do you think there was a better strategy you could have employed?
A. Leroy: That's the perfect strategy because it was Ty that was trying to go before Emily and it was harder for her to get to the pole. Let her get to the pole first and then you fight and dig to get there. I just tried to put as much slack on the band as possible. There was no other way to do it and it was impossible for her to make it. She tried and she definitely gave 110%. The fact that upset me was not how she competed, but the things that went on inside the house. There are things that shouldn't be discussed - me, my sex life with other girls. That's what bothered me.
Q. Gina, RealityWanted: Would you do another Challenge and if so, would you rather it be an individual competition?
A. Leroy: Most definitely, you took the words out of my mouth! I want to do another Challenge. I don't want to be on teams at all, unless it's like teams of five or six where you know you can make that weak person go home off your team. If I lose, I want it to be because of me. As a partner competing with Naomi, she was terrified of everything but on the good side, she did give 110%. She's more worried about what I'm doing around the house than what's going on in the game. We're not a couple, we're not dating.

The Challenge: Battle of the Exes airs Wednesdays at 10/9c on MTV.
(Image courtesy of MTV)

Follow Gina @ginascarpa and "Like" her on Facebook!