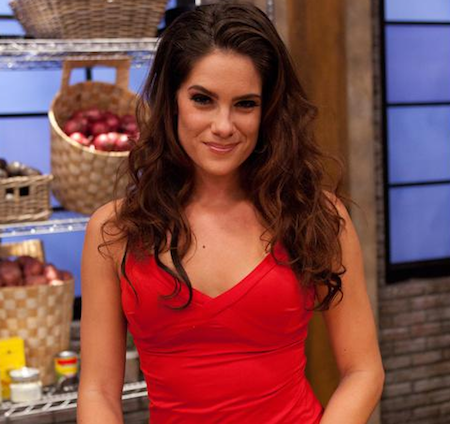 by Gina Scarpa
Since competing on The Amazing Race in 2009, Tiffany Michelle has continued her professional poker career as well as pursued acting and music.  One thing she has yet to tackle is the kitchen and when her family suggested that she'd be perfect for Food Network's Worst Cooks In America, she welcomed the challenge!  Tiffany is part of the new crop of contestants for season 3 and we caught up with her today to find out more about what she's been up to, her (lack of) cooking skills, and what we'll get out of tuning into the season premiere of Worst Cooks In America this weekend!
Q. Gina, RealityWanted: What have you been up since The Amazing Race?
A. Tiffany: There's always something crazy going on. I've been playing a lot of poker, I travel around. I spend my summers in Vegas for the World Series Of Poker. I just finished a book. Just in the last few months, I've been taking a little bit of a break from poker and getting back to some acting. I just did Days of Our Lives and did a online soap opera. You know m I'm always looking for the new challenge.
Q. Gina, RealityWanted: What prompted you to try out for and compete on Worst Cooks In America?
A. Tiffany: I always have a lot of different tv opportunities come my way that I'm considering. My sister was into the show and I was visiting her in Texas and we watched it. We both turned to my mom and they were like, "Tiffany you have to do this!" which is such a compliment to me. [Laughs] My mom is an award-winning chef. My family are all cooks and that goes back to my grandfather - I have these memoires of his barbecues. I'm the only one that got gipped. I'm literally the one that's assigned to set the table. I'm 27 and I'm starting to realize that I need to give this cooking thing a shot! What happens when I have kids some day? It's a fun, challenging, crazy way to go about finally getting in the kitchen.
Q. Gina, RealityWanted: On a scale of 1-10 before the show, how bad was your cooking?
A. Tiffany: Oh it was literally a 0! Some people on the show have given their family members food poisoning; I literally have never cooked at all. I have no knowledge. If I have a dinner party, I have my mom make a dish and I pretend I made it! I know how to work the dishwasher and I know how to make a grilled cheese. I was on a different scale of being bad because I had no knowledge.
Q. Gina, RealityWanted: It must have been pretty amazing to get feedback from Bobby Flay but was it nervewracking too?
A. Tiffany: I'm used to competition and pressure in so many aspects of my life. It's just totally different when you're not competent at all. Getting to cook for Bobby Flay, my mom will be jealous of me. This was a once in a lifetime opportunity, and I knew there was a way that this show would better me as a person.
Q. Gina, RealityWanted: What dish would you have failed at miserably before but now you kick butt at, thanks to being on Worst Cooks In America?
A. Tiffany: Any dish I would've failed at! If it wasn't cold cuts and cheese... in the first episode, you'll see that we have to do breakfast, which sounds easy. We have to make four different kinds of eggs, very technically. It gets a little bit messy! I didn't know what to expect. I know I'm capable but I didn't know what would be thrown at me. I just wanted to learn to grill a chicken and make some vegetables. I didn't need to know how to make anything extravagant!
Q. Gina, RealityWanted: What do you want people to know about Worst Cooks In America?
A. Tiffany: You could not have scripted a better television show than the people I competed with. It's gonna be so hilarious, in addition the fact that none of us know what we're doing. I learned something but it was just so comical. You're gonna see fires, all kinds of ridiculous things. I'm sure for people that are competent in the kitchen, it's unbelievable to think there are people like me. It's gonna be a very, very hilarious season. And I think the viewers will really enjoy it!
Check out Tiffany's website and follow her @TiffnyMichelle

Season 3 of Worst Cooks In America premieres Sunday, February 12th, at 9/8c on Food Network.
(Image courtesy of Food Network)
Follow Gina @ginascarpa and "Like" her on Facebook!