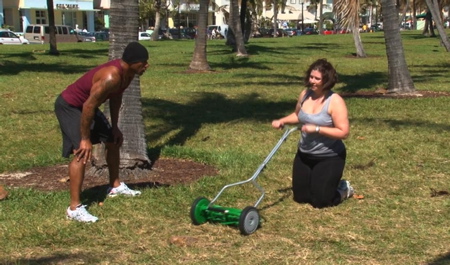 by Todd Betzold
He's back and he is bigger - badder - and more psychotic then ever, as Season 2 of Operation Osmin premieres on the unlucky day, Friday, January 13th. It may be an unlucky date to premiere, but it is a lucky time for 10 out-of-shape recruits as Osmin Hernandez takes them on a 30-day journey to get back into the shape they desire. Today, we got an exclusive interview with Osmin to talk about this upcoming season.
Q: Todd, RealityWanted: You say the world is your gym, what brought you to this concept you use in your training?
A: Osmin: When I was a kid growing up in Cuba, I had to go out running on the rocks, no shoes. Sometimes I would have to go chase a car...sometimes fight for my MMA training. The toughest people in the world...the Army, Navy SEALs, all train outdoors. You can use anything, anywhere, anytime. You can use the water, the tree, the bench, car. You can use plane boats, street. Whatever you see in front of you is equipment.
Q: Todd, RealityWanted: What can we expect to see in Season 2?
A: Osmin: I'm really excited...so many things happen. There's some people crying...there's some people fixing their personal problems...some people shitting their pants...some people pissing their pants...some people puking...people are changing their whole lives. We're going to see a lot of things...changing people's lives in 30 days...it'll happen.
Q: Todd, RealityWanted: This upcoming season, the recruits will be training in pairs...why the change?
A: Osmin: There are singles, but a lot of doubles. We have couples...two cops and two firefighters and roommates and two co-workers. I'm a master trainer and I do it in steps. I don't wanna jump in the water when I don't know how deep the water is. Step 1 works...Step 2 works. Next season I want to do step 3 and work with different groups of people, step 4 schools, step 5 the country, step 6 the world...take it step by step.
Q: Todd, RealityWanted: After the show, do you keep up with the recruits to make sure they are keeping up with their new training and lifestyle?
A: Osmin: Very much. We make sure we keep in touch with the people from the past season to make sure they keep going. It's not easy to control people...I do my best. I try to keep in touch and send emails and communicate and stuff like that and sometimes it doesn't work. Right now, out of 20 people, 19 of them are doing good.
Q: Todd, RealityWanted: Any word on a third season yet?
A: Osmin: Yes, we will be shooting Season 3 on March 12th. It's gonna get worse, gonna get more difficult,
Q: Todd, RealityWanted: It is a new year and many people make resolutions to be healthier and lose weight. Do you have any words of motivation for them?
A: Osmin: 2012 is not the end of the world...it's the end to the beginning. That being said, the end is the beginning. This is the beginning...fish, salad and water. Watch Operation Osmin tomorrow night on nuvoTV at 10pm...watch my show and you will change your life in 30 days. 2012...we gotta believe in that. The world is your gym...fish, salad, water...no excuses. You don't need health membership or personal trainer...you need fish, salad and water and my training ways.
Operation Osmin premieres Friday, January 13th at 10/9c on nuvoTV.
(Image courtesy of nuvoTV)
Follow Todd @tbetzold