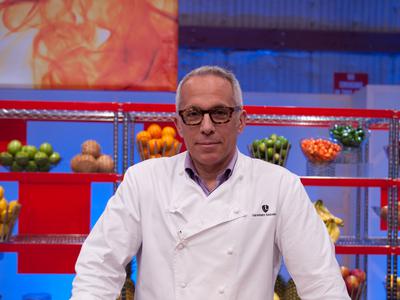 by Danae Young
This week on The Next Iron Chef, only two remain and finally one is named The Next Iron Chef. 
Chef Zakarian and Chef Falkner had to create the ultimate holiday meal using standing beef rib roast, salt cod, Brussels sprouts, Clementine, squash, acorns, parsnips, apple cider, and candy canes. 
They had to create three holiday dishes in just one hour. Each chef had two sous chefs to help them out. 
At the 46th minute mark the chairman revealed a holiday surprise. They had to create a cranberry dish. The chefs got to ask one of their previous competitors to come down and help each one of them for 15 minutes. They chose Chef Guarnaschelli. 
Pressure was the name of the game for this challenge. 
At the 30 minute mark, the chairman gave the chefs another surprise. They had to use the ice cream machine to make a frozen concoction. 
With only 15 minutes remaining in the challenge, the chairman had one last surprise. The chefs had to create a special holiday treat that filled a martini glass. 
Chef Bobby Flay and Chef Morimoto were additional judges to the panel for the finale. 
Chef Falkner was up first. To fill the martini glass, she made Christmas in California. Her first dish was Salt Cod Brandade Fritters. The next course was Winter Squash Agnolotti with Brussels Sprouts. The third dish was Beef Wellington. For her cranberry specialty she made Cranberry Sorbet and Frisee Salad. Her ice cream dish was Candy Cane Chocolate Cake. 
Chef Zakarian's cranberry dish was Cranberry Risotto. For his cocktail he made a Mad Man Cosmopolitan. His first dish was Crispy and Creamy Brussels Sprouts. The second dish was Parsnip Cardamom Bisque with Sausage Stuffing. The last dish was Crown Roast Beef with Three Gifts. For his ice cream dish he made Buttermilk Frozen Custard with Peppermint Snow. 
There is no way this decision was an easy one for the judges. 
The Next Iron Chef is… (drum roll please)
Chef Zakarian!
Poor Chef Falkner was brought to tears after the devastating loss. 
(Image courtesy of Food Network)
Follow Danae @danaeyoung